This is an archived article and the information in the article may be outdated. Please look at the time stamp on the story to see when it was last updated.
When Emmie comes to work at the Department of Defense, alongside Pentagon police Officer Eric Harris, her nose is already on alert.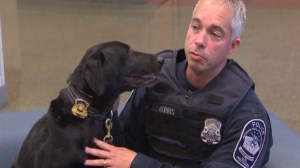 Checking, pausing, sniffing — Emmie is trained to detect explosives.
But this 6-year-old Labrador is also a combat veteran — the first on the Pentagon's K-9 force.
"Before she came to work with us, Emmie did two tours with the Marines in Afghanistan," Harris said. "Emmie was an IED Dog. That's what they call them over there. Her sole purpose was to find IEDs alongside the roadsides in Afghanistan."
[protected-iframe id="343fc83e74d4bfa85eb3674ca8ad7b3e-41641936-52137988″ info="http://www.cnn.com/video/api/embed.html#/video/bestoftv/2013/12/28/exp-pentagon-dog.cnn" width="600″ height="400″ frameborder="0″]