This is an archived article and the information in the article may be outdated. Please look at the time stamp on the story to see when it was last updated.
Four Los Angeles-area police officers were awarded the Medal of Valor by President Barack Obama at a ceremony Monday morning in Washington, the White House announced.
The four officers honored are: Officers Jason Salas and Robert Sparks, of the Santa Monica Police Department; Captain Raymond Bottenfield of the Santa Monica College Police Department; and Officer Donald Thompson of the Los Angeles Police Department.
Salas, Sparks and Bottenfield received the medal for their actions in the 2013 deadly shooting rampage that ended on the Santa Monica College campus, according to a White House news release.
Four people were killed across the city in a series of shootings before the gunman was fatally shot by police inside SMC's library, authorities said at the time.
"Officer Salas, Officer Sparks, and Captain Bottenfield placed themselves in mortal danger to save the lives of students and staff during a school shooting," the release stated.
Thompson was honored "for courageous actions to save an accident victim" on Christmas Day 2013, according to the White House.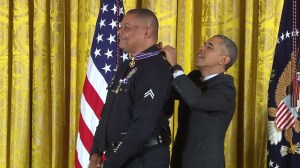 The off-duty officer, who was headed to work at the time and witnessed the crash, jumped the 405 Freeway divider in Sherman Oaks to pull the unconscious victim out of the burning vehicle before it became fully engulfed in flames.
"He would have burned. There was no 'coulda' to that," Thompson told KTLA later that day. "He would have died. … It was just a matter of seconds."
The 72-year old crash victim was transported to a hospital with moderate injuries.
"It makes me feel good to know that I saved a life," Thompson said.
The four local law enforcement personnel were among a group of 13 public safety officers who were honored during the ceremony, which took place in the East Room of the White House.
The Medal of Valor -- the highest national award for valor given to public safety officers -- is awarded for exhibiting exceptional courage to protect or save others from harm.