This is an archived article and the information in the article may be outdated. Please look at the time stamp on the story to see when it was last updated.
A memorial service for Maya Angelou was held Saturday morning at Wake Forest University where the renowned author and civil rights activist taught for many years.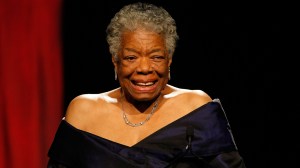 Oprah Winfrey, first lady Michelle Obama and former President Bill Clinton were among the many mourners who spoke about Angelou.
"She touched people all across the globe, including a young white woman from Kansas who named her daughter after Maya and raised her son to be the first black president of the United States," Obama said.
Angelou herself said she was excited and hopeful when Barack Obama was elected president.
"It was as if someone in the outer sphere said, 'What can we do to really show how important Martin Luther King was?'" she said shortly after the election.
During her 86 years, Angelou wrote multiple books including the critically-acclaimed "I Know Why the Caged Bird Sings."
The memoir recalled living in the Jim Crow South and how she was abandoned by her parents, raped by her mother's boyfriend and became homeless and a teenage mother.
Her mother's boyfriend was beaten to death by a mob after Angelou testified against him, and she famously went mute for years at age 7 because she thought her voice had killed him.
"Here's why I think she died when she did. It was her voice," Clinton said at the memorial. "She was without a voice for five years, and then she developed the greatest voice on the planet. God loaned her his voice. She had the voice of God, and he decided he wanted it back for a while."
As a professor who never went to college, Angelou was affectionately called Dr. Angelou and earned more than 30 honorary degrees and taught American studies for years at Wake Forest University in Winston-Salem.
President Obama honored Angelou with the country's highest civilian honor, the Medal of Freedom, in 2010 for her work as a novelist, actress, professor, singer, dancer and activist.
When her May 28 death was announced thousands took to social media to share their grief and memories.
"All of the writers of my generation must honor the ground broken by Dr. Maya Angelou," author Tayari Jones posted on her Facebook page when Angelou died.
"She told a story that wasn't allowed to be told," Jones said. "Now, people tell all sorts of things in memoir, but when she told the truth, she challenged a taboo — not for shock value, but to heal us all."
Click here to read Maya Angelou's obituary.