This is an archived article and the information in the article may be outdated. Please look at the time stamp on the story to see when it was last updated.
Former President George H. W. Bush has been extubated and is now breathing on his own "with minimal supplemental oxygen," Bush family spokesman Jim McGrath said in a statement Friday. Former first lady Barbara Bush also continues to improve, he added.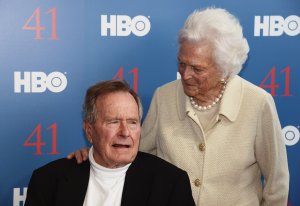 The 92-year-old former President was admitted to Houston Methodist Hospital on Jan. 14 to address a respiratory issue stemming from pneumonia. His wife was admitted to the same hospital on Wednesday for treatment of bronchitis.
The couple were comfortable and watching coverage of President Donald Trump's inauguration together in the hospital Friday, McGrath said.
"President Bush will remain in the ICU (intensive care unit) for observation," McGrath said. "Mrs. Bush, meanwhile, continues to feel better and is focusing on spending time with her husband.
"She is expected to remain in the hospital over the weekend as a precaution," he said.
Their son Neil Bush and daughter-in-law Maria were visiting the couple Friday, McGrath said. Earlier in the week, he said no other family members were flying in because they felt everything was stable and moving in the right direction.
Former President George W. Bush attended Trump's inauguration in Washington.
Earlier this week, McGrath reported that George H.W. Bush initially was responding well to drugs. But Wednesday, the 41st President's condition changed and he was admitted to the intensive care unit, sedated and intubated.
The former President was no longer sedated by Wednesday evening.
Already had planned not to attend inauguration
Bush, who served a single term as President from 1989 to 1993, was already not expected to attend Trump's inauguration Friday due to health concerns.
Bush sent a letter to Trump on Jan. 10, apologizing for missing the ceremony and saying that he and Barbara "wish you the very best as you begin this incredible journey of leading our great country."
"My doctor says if I sit outside in January, it likely will put me six feet under. Same for Barbara," Bush wrote, in a letter first reported by ABC News. "So I guess we're stuck in Texas."
Trump responded on Twitter Wednesday, wishing the Bushes a speedy recovery and thanking them for their note.
"Looking forward to a speedy recovery for George and Barbara Bush, both hospitalized. Thank you for your wonderful letter!" he tweeted.
Previous health concerns
Bush revealed several years ago that he suffered from a form of Parkinson's disease that left him unable to walk. He uses a wheelchair or a scooter to get around and had two other health scares in 2014 and 2015.
In December 2014, he was hospitalized after experiencing shortness of breath, and the following July fell at his home in Kennebunkport, Maine, breaking a vertebrae in his neck.
The injury did not result in any neurological problems, his spokesman said at the time.