This is an archived article and the information in the article may be outdated. Please look at the time stamp on the story to see when it was last updated.
Two teens will be attending their school prom together after a Georgia deputy helped the young man ask the girl to go.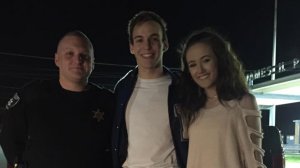 The Bibb County Sheriff's Department posted the video on Facebook, showing Deputy Alex Fletcher executing a traffic stop. During the stop, Fletcher hands the young girl a note from the boy asking "Prom with Kyle?"
The girl, whose name is Morgan, read her traffic ticket and said, "Yes!," according to the Sheriff's Department's post.
The video shows Kyle entering the picture and the young couple embracing.
The Facebook posts also shows a "thank you" note written for the deputy from Kyle.