This is an archived article and the information in the article may be outdated. Please look at the time stamp on the story to see when it was last updated.
PHOENIX (KTLA) — A 6-year-old girl died Thursday after going on a late-night joyride with her 8-year-old brother who crashed their mother's car into a pole, police said.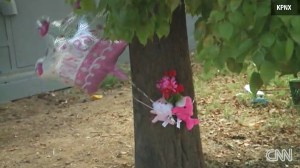 The mother gave the children a bath and put them to bed around 9:30 p.m. Wednesday, said Sgt. Steve Martos of the Phoenix Police Department.
The children's grandmother, who lives nearby, was driving home when saw her daughter's front door open.
She went in, woke up the woman, who discovered both children missing along with her car, Martos said.
The mother called 911 fearing the children had been abducted.A few minutes later, police spotted the vehicle, but when they tried to pull it over the car veered off the road and struck a pole.
Both the children were dressed in their pajamas.
The 6-year-old died several hours later at a local hospital. Her 8-year-old brother was not seriously hurt.
Police had not spoken to the boy Thursday, but no charges were expected.
CNN contributed to this report.
[protected-iframe id="5004afd3bbd58dd9398182deb81e1e12-41641936-41845117″ info="http://i.cdn.turner.com/cnn/.element/apps/cvp/3.0/swf/cnn_embed_2x_container.swf?site=cnn&profile=desktop&context=embedwww&videoId=us/2013/08/30/dnt-8-year-old-fatal-joyride.kpnx&contentId=us/2013/08/30/dnt-8-year-old-fatal-joyride.kpnx" width="601″ height="338″]