This is an archived article and the information in the article may be outdated. Please look at the time stamp on the story to see when it was last updated.
Little Ella Schultz will get her wish.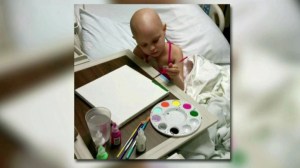 Shortly before 5 p.m. Thursday, the Stonegate Homeowners Association announced they will allow the little girl battling cancer to have her wish come true and get the playhouse she wanted. The group reversed its previous decision to block the 6-year-old's playhouse from being built.
"We say a heartfelt thank you. It means the world to us because it's all about her and her being happy and healthy," Ella's dad Pete Schultz said while smiling ear to ear.
He was thrilled to call Ella and tell her the news.
"She was yelling. She was like 'Yeah! I'm going to have my own place outside where I can go,'" Schultz said.
Her backyard will be a place for her to just be a kid and take her mind off fighting a deadly form of cancer.
"It's going to look amazing. I'm only allowed in it when I bake chocolate chip cookies and bring them to her," Schultz said. "She's going to love it."
All the fun almost didn't happen. The Stonegate HOA originally denied the Make-A-Wish request to build the playhouse, saying it violated covenants. People from all over the world wrote letters and emails to save Ella's wish.
"The one thing she wanted, they were going to move mountains like I was wanting to, to make it happen," Schultz said. "She'll be able to have friends over, which she is really looking forward to that."
Ella's family is currently planning how they are going to do the big reveal. JE Dunn will build the playhouse, bring it in on a flat bed and use a crane to put it in the backyard.
The homeowners association declined an interview request, but sent a statement.
"Today, we are happy to share that we have reached a positive resolution to ensure Ella's playhouse will be constructed."
"Our board met with JE Dunn Construction and Make-A-Wish to gather additional information, and while we still have a few details and timelines to work out, we collectively reached the conclusion that Ella will get her wish. We couldn't be more pleased to see that happen."
"JE Dunn is thrilled to design and build the playhouse."
Make-A-Wish Missouri also released a statement, saying how happy they were to come to an agreement.
"We are incredibly happy to learn that the Homeowner's Association will work with Make-A-Wish, and our friends at JE Dunn, to see that Ella's playhouse is built. At the heart of this matter has always been a young girl fighting leukemia, so we appreciate the willingness of the HOA to reach a compromise that will allow her wish to move forward. Make-A-Wish staff will work to ensure the playhouse meets all agreed upon requirements so that Ella can enjoy the playhouse in the coming weeks."
There are new concerns that the homeowners association may be operating even though it is not in good standing with the Missouri Secretary of State's Office.
A national group of activists questions whether or not the board had any authority to deny the little girl's playhouse in the first place.
[protected-iframe id="354130f556eb7b003eaa3a04c971be85-41641936-52137988″ info="http://launch.newsinc.com/?type=VideoPlayer/Single&widgetId=1&trackingGroup=69016&siteSection=KTVI&videoId=28681933″ width="590″ height="332″ scrolling="no"]