This is an archived article and the information in the article may be outdated. Please look at the time stamp on the story to see when it was last updated.
Palm Beach County Animal Care and Control is crediting a good Samaritan with saving a kitten thrown from a car on Interstate 95 in Florida.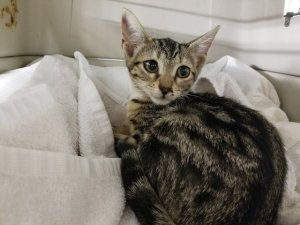 The 3-month-old kitten was thrown out of a car window on northbound off-ramp at Atlantic Avenue in Delray Beach at about 5:20 p.m. on July 21, ACC says.
The good Samaritan saw what happened and stopped rush-hour traffic to rescue it, WPTV reported.
The kitten has been named Summer. She is in stable but critical condition in ACC care.
Veterinarians with ACC say she will need surgery for a fractured femur.
ACC investigators are looking for help identifying the suspect involved.