This is an archived article and the information in the article may be outdated. Please look at the time stamp on the story to see when it was last updated.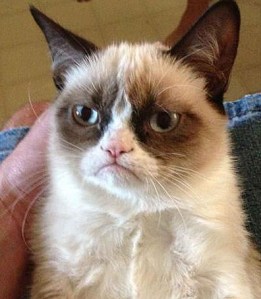 Pet food company Nestle Purina PetCare has hired Grumpy Cat — whose real name is Tardar Sauce — to be the official "spokescat" for its Friskies brand.
The cat's first official duty will be a live appearance at the annual Friskies cat video contest awards on Oct. 15, where she will receive a lifetime achievement award.
The cat's inexplicable permafrown has made it an Internet sensation, allowing its Texas-based owner Tabatha Bundesen to sign business deals with a coffee company named Grumpy Beverage and also movie producers to use the cat's image.
The owner's brother Bryan Bundesen made the cat famous by taking her photo and posting it on Reddit on Sept. 22, 2012, when the cat was only five months old.  The company would not say how much the famous cat earned for the deal.
Click here to read the full story at CNN.com.