This is an archived article and the information in the article may be outdated. Please look at the time stamp on the story to see when it was last updated.
Nelle Harper Lee, the Pulitzer Prize-winning writer best known for the classic and beloved American novel "To Kill a Mockingbird," has died at the age of 89, her family confirmed Friday morning.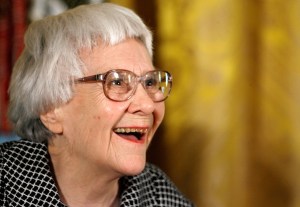 Lee's death was first reported Friday morning by the Alabama website AL.com, which cited multiple sources from her hometown of Monroeville, Alabama.
Her family later released a statement confirming the author's death.
"The family of Nelle Harper Lee, of Monroeville, Alabama, announced today, with great sadness, that Ms. Lee passed away in her sleep early this morning. Her passing was unexpected. She remained in good basic health until her passing. The family is in mourning," the statement read.
Her publisher, HarperCollins, also released a statement.
"The world knows Harper Lee was a brilliant writer but what many don't know is that she was an extraordinary woman of great joyfulness, humility and kindness," said the company's president and publisher, Michael Morrison. "She lived her life the way she wanted to- in private- surrounded by books and the people who loved her. I will always cherish the time I spent with her."
A cause of death was not immediately released, and the reports did not indicate when or where she died.
Born in Monroeville on April 28, 1926, Lee was just 34 years old when "To Kill a Mockingbird" was published, according to the biography on her website.
The book, set in the fictional Alabama town of Maycomb in the 1930s, chronicled small-town life and race relations in the Jim Crow-era Deep South.
Narrated by Jean Louise "Scout" Finch, the novel centers on the tomboy child's family life with father Atticus Finch and her brother Jeremy "Jem" Finch, and eventually focuses on the trial of Tom Robinson, a black man accused of raping a 19-year-old poor, white woman.
"To Kill a Mockingbird" was an "instant" success, eventually selling more than 10 million copies, according to the New York Times.
Lee was awarded the Pulitzer for the bestselling novel in 1961; the following year, it was adapted into a movie that went on to win three Academy Awards, including Best Picture and Best Actor for Gregory Peck, who portrayed Atticus Finch.
"I never expected any sort of success with 'Mockingbird,' " she said in a radio interview in 1964, according to the Times. "I was hoping for a quick and merciful death at the hands of the reviewers, but, at the same time I sort of hoped someone would like it well enough to give me encouragement … I hoped for a little, as I said, but I got rather a whole lot, and in some ways this was just about as frightening as the quick, merciful death I'd expected."
Despite the widespread acclaim and enormous success of the novel, Lee did not continue her career as writer. Instead, she moved from New York back to her hometown, where she shied away from doing interviews, her biography stated.
For about six decades, the novel remained the only one Lee published. Then, in 2015, she released her second book — "Go Set a Watchman." It featured the same iconic characters and was set once more in Maycomb, set two decades after the events of "To Kill a Mockingbird" take place.
An earlier draft of the book, titled "Go Set a Watchman," was published in 2015. The book was criticized for a different portrayal of Atticus, who voices racist sentiments, and questions arose as to whether Lee actually wanted it released.
Lee explained in a statement that she had presumed the work had been lost. "After much thought and hesitation, I shared it with a handful of people I trust and was pleased to hear that they considered it worthy of publication," she wrote, according to the Times.
Despite mixed reviews, the book was one of the top sellers of 2015.
In 2007, Harper Lee suffered a stroke, but eventually recovered, AL.com reported. She was most recently in an assisted-living facility.
Funeral services would be private, according to the family.
Reaction from people moved by Lee's work, including Apple CEO Tim Cook and Congressman John Lewis (both Alabama natives), actor Matthew Modine, author John Green and Washington Post reporter Jason Rezaian, who had been jailed in Iran, was swift.
"I re-read #tokillamockingbird during my trial. Touched me much more than when I first read it in high school. Rest in peace Harper Lee," Rezaian tweeted.
"This is a sad day for our family. America and the world knew Harper Lee as one of the last century's most beloved authors. We knew her as Nelle Harper Lee, a loving member of our family, a devoted friend to the many good people who touched her life, and a generous soul in our community and our state. We will miss her dearly," nephew Hank Conner wrote in the family's statement.