This is an archived article and the information in the article may be outdated. Please look at the time stamp on the story to see when it was last updated.
Harvey is no longer a hurricane, but life-threatening flooding continued in and around Houston on Sunday night as citizens with boats assisted authorities in search and rescue efforts.
Flooding from Tropical Storm Harvey is overburdening resources in the country's fourth-largest city, prompting authorities to call on volunteers with watercraft for help in rescuing those trapped in homes and buildings.
An immediate respite from Harvey's wrath seems unlikely to come. The National Weather Service calls the flooding "unprecedented," and warns things may become more dire if a forecasted record-breaking 50 inches of rain does fall on parts of Texas in coming days. In anticipation of a worsening situation, Dallas is turning its main convention center into a "mega-shelter" that can host 5,000 evacuees.
The "ongoing catastrophic and life-threatening flooding" was also spreading east to Louisiana, the National Hurricane Center said Sunday evening.
The rainfall threatens to exacerbate an already dangerous situation, as Harvey's rains have left many east Texas rivers and bayous swollen to their banks or beyond.
"The breadth and intensity of this rainfall are beyond anything experienced before," the weather service said. "Catastrophic flooding is now underway and expected to continue for days."
The storm killed at least five people in Texas, according to the New York Times, and the death toll will likely rise. More than 1,000 people were rescued overnight, and Houston Mayor Sylvester Turner warned that some 911 calls are going unanswered as operators "give preference to life-threatening calls."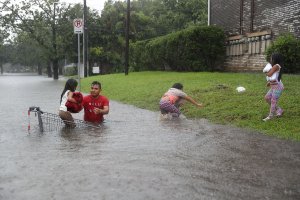 Here are the latest developments:
A woman who drove her vehicle into high water in Houston was killed, and fire killed a man in Rockport.
Several states and the US military are sending emergency workers and equipment to Texas. In Harris County, though, authorities are having issues mobilizing those resources. "We've requested boats, all the things that would normally happen in a well-planned response to an event like this, but they can't get here," Harris County Judge Ed Emmett said.
Dallas announced its plans to open a "mega-shelter" capable of accommodating 5,000 evacuees at the Kay Bailey Hutchison Convention Center. County officials, charitable groups and local hospitals are working to open the shelter by Tuesday morning.
While Turner warned the rain could exacerbate flooding for "four to five days," Federal Emergency Management Agency Director Brock Long said he expects his agency "is going to be there for years."
The Houston Independent School District has canceled school for the week.
Houston's George Bush Intercontinental and William P. Hobby airports are closed until further notice, and Corpus Christi International is closed for at least 24 hours, officials said. Jack Brooks Regional Airport in Beaumont, Ellington Airport in Houston, Mustang Beach Airport in Port Aransas and McCampbell-Porter Airport in Aransas Pass are also temporarily closed, the Federal Aviation Administration says.
Ben Taub Hospital, which houses a Level I trauma center, is being evacuated after flooding in the basement "disrupted the power source," Emmet said.
316,000 customers have lost electricity, Gov. Greg Abbott said.
The Red Cross is serving about 130,000 meals a day, the governor said.
President Donald Trump will travel to Texas on Tuesday, press secretary Sarah Huckabee Sanders said.
Trapped
Among those stranded by the storm is Ify Echetebu, 30, who spoke to CNN from her aunt's house in Dickinson, not far from Galveston Bay. Along with her fiancé, grandparents, a friend and several teenagers, Echetebu is trapped on the second floor of the house as floodwaters creep up the staircase. She can see the rooftops of submerged cars in driveways, she said.
On the first floor, the water is up to her waist, she said. Emergency services know she and 10 others are holed up in the home, she said, but because emergencies take priority, she doesn't expect to be rescued until tomorrow, Echetebu said.
"We're nervous to stay here, but we are sleeping in shifts," she said. "Now we're having to deal with sewage in the water, river water, bayou water, water moccasins, snakes, gators."
Not far away, a rescue operation saved 20 to 25 residents of La Vita Bella assisted-living facility in Dickinson.
"They were up to their waist," Galveston County Commissioner Ken Clark said. "If they were in a wheelchair, they could have been up to their neck."
After a record 22 inches fell on the county in one day, rescuers set out before dawn Sunday to save those who braved the storm. Officials quickly realized they did not have enough boats for the rescue operations and asked private boat owners to help, said County Judge Mark Henry, responsible for disaster response in the county.
As of Sunday evening, between 800 and 1,200 people had been rescued from their homes in Galveston County, Henry said.
As authorities warned people not to take shelter in attics, unless they have axes handy to break through their roofs, several residents provided CNN with their accounts of riding out the storm.
"We are still stranded in our home with little kids and the water keeps rising," Houston resident Janet Castillo said Sunday morning. "We have (tried calling several numbers), but their lines are all busy or they don't answer."
Jake Lewis of New Braunfels, Texas, said he woke up to ankle-deep water in the Houston hotel where he is staying.
"We have nowhere to go," he said. "I have a 2016 Chevy Silverado and the water is up to the door panels. The water keeps rising."
One of two confirmed fatalities happened in Houston when a woman drove her vehicle into high water and couldn't make it across, city police said. She got out of her vehicle, was overtaken by floodwaters and drowned.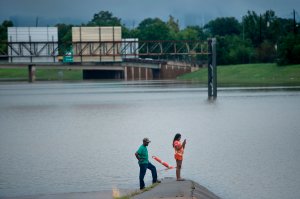 Many roads impassable
In a Sunday news conference, Abbott said, "We want to stress when there is heavy rainfall and flooding, the importance of staying off the road. If you drive into water, you're taking your life into your own hands."
Portions of major highways, including Interstates 10, 45 and 610, were submerged and unnavigable. Houston resident Dion Laurent said the White Oak Bayou flooded I-10 and I-45.
Harris County Sheriff Ed Gonzalez said he understands the compulsion to find safer ground, but urged people to think twice before venturing out into high water and to consider unforeseen dangers, such as manhole covers being lifted from their holes.
Lt. Craig Cummings of the Texas Department of Public Safety said attempts to drive to safety may be futile anyway, as it took him two and a half hours to drive 20 miles in Houston on Sunday.
"There's 60 barricaded locations as of midnight. Most thoroughfares are impassable. Several hundred structures are flooded, and we are expecting that number to rise," he said.
In Brazoria County, south of Houston, officials set up an evacuation route for all residents living west of State Highway 288 and south of State Highway 6, ordering them to "LEAVE NOW!" under a mandatory evacuation order. Those in need of shelter can take refuge in the Bell County Expo Center in Belton, officials said.
The 911 dispatchers in the nation's fourth-most populous city have received 2,000 requests for rescue, Mayor Turner said. Houston Fire Chief Samuel Peña said his department had responded to 2,500 calls and have about 1,000 more waiting to be serviced.
Gonzalez tweeted that many high-water rescues were performed overnight in Houston, some involving children or residents with medical issues, including one person suffering from cardiac arrest. Stranded residents were saved from vehicles on the highway. Airboats were employed in some instances, he said.
People are taking to social media to announce their locations and ask for help.
One person, whose mom is diabetic and dad has heart disease, tweeted, "We need help!! My house is flooded."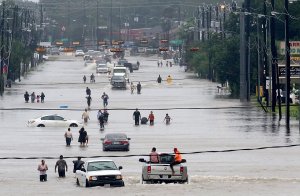 24 inches of rain in 24 hours
Harvey blasted ashore as a Category 4 hurricane just north of Corpus Christi. It brought with it 132-mph winds but was quickly downgraded to a tropical storm. Still, it continued to spawn tornadoes and lightning.
A flash flood emergency was declared for sections of Houston, where more than 24 inches of rain fell in 24 hours, the National Weather Service said.
The weather service said maximum sustained winds Sunday would be near 45 mph. While Harvey could become a tropical depression by Sunday night, residents are warned to remain vigilant.
The slow-moving storm is expected to drop 15 to 25 inches of rain over the Texas coast through Thursday. Isolated storms could drop up to 50 inches of rain, the weather service said.
"What is unique in Harvey is that as the storm moved inland, a large high pressure built in to the north and, basically, the steering currents, which guide Harvey, collapsed," said CNN senior meterologist Dave Hennen. "This has caused the extremely slow movement of the storm, moving only around 60 miles, less than 2 miles per hour. This has allowed the bands of storms to move over the same areas over and over."
The weather service says rainfall of this magnitude "will cause catastrophic and life-threatening flooding."
Some residents are comparing Harvey to Allison, a storm that struck the Texas coast in 2001 and killed 23 people.
"Allison was bad — really, really bad," Houston resident Pat Napolio said, "but if (the water) creeps up anymore, Harvey will surpass (Allison)."
Rockport hit hard
Another fatality was reported in the battered coastal city of Rockport. A person died in a house fire during the storm, Aransas County Judge Burt Mills said Saturday.
Warnings of tornadoes, torrential downpours and potentially historic flooding means extra bad news for broad swaths of southeast Texas, already littered with uprooted trees, toppled signs, flagpoles snapped like toothpicks and homes missing rooftops and patches of brick walls.
Additional fatalities were feared in Rockport, where an estimated 5,000 residents rode out the storm, Aransas County Sheriff Bill Mills said.
Brock Long, director of the Federal Emergency Management Agency, said that Harvey would leave areas "uninhabitable for weeks or months," echoing language last heard ahead of Hurricane Katrina in 2005.
"FEMA is going to be there for years," Long said.
You can find information on how to help Tropical Storm Harvey's victims here.
The red ❗️'s are rivers and streams in Houston that are currently overflowing their banks. Record or near-record levels everywhere. pic.twitter.com/SF5NK1Pxa8

— Eric Holthaus (@EricHolthaus) August 27, 2017
View of downtown Houston right now, from Instagram https://t.co/7wSWxM1z9s pic.twitter.com/ffkDkSdOK1

— Christopher Ingraham (@_cingraham) August 27, 2017
Rescue operations in full swing in Houston as people flee flooding from Tropical Storm Harvey. pic.twitter.com/znCJAJCFQL

— Robert Gauthier (@rgaut999) August 27, 2017
Drone footage from Rockport, Texas, shows the destruction left behind by #HurricaneHarvey https://t.co/8iN6w6JkgH pic.twitter.com/fnmNT2DcqW

— CNN (@CNN) August 27, 2017