This is an archived article and the information in the article may be outdated. Please look at the time stamp on the story to see when it was last updated.
Exhausted and drenched in filthy floodwater, weary emergency workers and volunteers scrambled to save the latest wave of Tropical Storm Harvey's victims amid word that a veteran Houston police sergeant drowned on his way to work.
Sgt. Steve Perez's body was recovered early Tuesday.
Perez, 60, left for work in the dark about 4 a.m. Sunday and "spent about 2½ hours driving around trying to get to his duty station," police Chief Art Acevedo said. The 34-year police veteran drove on an underpass.
Read: Death of officer hits department hard
On Monday, officials narrowed the location to one area. The Cajun Navy, a Louisiana-based rescue force that gained fame in Hurricane Katrina, helped look for Perez, Acevedo said, tearing up.
"Once our dive team got there, it was too treacherous to go under and look for him, Acevedo said. "So, we made a decision to leave officers there waiting until the morning, because as much as we wanted to recover him last night, we could not put more officers at risk."
"For we knew in our hearts it was going to be a recovery mission," Acevedo said.
With another landfall expected, the devastation and misery could intensify.
'It was scary -- the water was up to here'
A sea of volunteers and rescue workers used fishing boats and big SUVs to save Harvey's victims. One volunteer even used a dump truck to save anyone he could.
Three days after Hurricane Harvey slammed into Texas, the stubborn, slow-moving storm wreaked more havoc when it caused Houston's Addicks Reservoir to overflow and breached a levee in nearby Brazoria County.
"It was scary -- the water was up to here," Houston resident Yee Seng said, gesturing to the middle of her chest.
The floodwater that topped the reservoir deluged her street and turned it into a river. Seng's boyfriend, Steve Konemany, tried to salvage some of her belongings by floating them on an air mattress.
"We just didn't want to stick around to see what was going to happen," Seng said.
Catastrophic flooding from Harvey has already swallowed thousands of homes in the Houston area. First responders have rescued more than 3,500 people from the flooding, Acevedo said.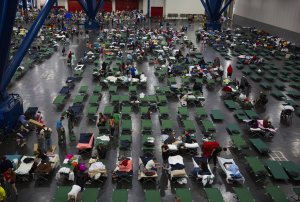 That number is almost certain to keep rising, as countless residents remain trapped in their deluged homes three days after Hurricane Harvey struck.
"Every passing hour, more boats are getting into the water," the chief said. "This is a catastrophic event."
Latest developments
-- President Donald Trump met with officials in Austin and Corpus Christi. Trump did not visit the hardest-hit parts of Texas because the President wanted "to be very cautious about making sure that any activity doesn't disrupt the recovery efforts that are still ongoing," White House press secretary Sarah Huckabee Sanders said.
-- Several rain gauges southeast of downtown Houston report more than 48 inches of rain from the storm known as Harvey. That marks the most rain ever recorded in the contiguous United States from a tropical storm that made landfall. The previous record was held by Tropical Storm Amelia, which hit Texas in 1978.
-- Houston's George R. Brown Convention Center was hosting more 10,000 evacuees, Turner said. Officials said two additional shelters will house evacuees: The Toyota Center and the NRG Center.
-- Officials will not ask for immigration status or documentation from anyone at any shelter, according to tweets in English and Spanish from the city's verified account.
-- Dallas opened a mega shelter at its downtown convention center.
-- Residents within 1.5 miles of the Arkema peroxide plant in Crosby, northeast of Houston, were evacuated as a precaution, the Harris County Fire Marshal Office said. Arkema said the potential for a chemical reaction that can cause a fire or explosion at the site "is real," though it doesn't believe there is imminent danger. The company evacuated a team that has been at the flooded facility since it shut down Friday as Harvey approached.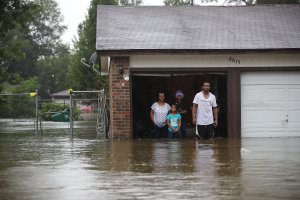 Floodwater overwhelms levee
The floodwater breached a levee in the county south of Houston.
"Get out now!" Brazoria County officials tweeted.
Local rivers swelled to major flood stage, county spokeswoman Sharon Trower said.
"The Brazos River is being pounded, and all of that water is coming down from the tributaries and creeks into the river," she said. "All the roads around us are flooded. We don't have any evacuation routes to tell people to take."
Brazoria County sits between the Gulf of Mexico and Houston, which remains the site of Harvey's most appalling devastation. But Brazoria County's levee breach is not expected to impact the flooding in Houston.
More wrath to come
Tropical Storm Harvey hovered over the Gulf of Mexico and threatened to dump an additional 8-12 inches of rain in eastern Texas and western Louisiana through Wednesday night. Houston could see about 1 inch more.
Louisiana braces for Harvey's rain
And the water won't stop rising anytime soon. Harvey could bring more "catastrophic and life-threatening" flooding before making landfall again Wednesday morning near the Texas-Louisiana border, according to the CNN Weather Center.
Swollen rivers in east Texas aren't expected to crest until later this week. Federal officials are already predicting the deadly storm will drive 30,000 people into shelters and spur 450,000 people to seek some sort of disaster assistance.
Stuck in a wheelchair as the water rose
People have turned to the walkie-talkie app Zello to report their dire circumstances. Among them were an elderly couple trapped on a roof and a family caught in the maelstrom with three children, including one in the throes of a seizure and another with autism.
Confined to a wheelchair as the water rose, Karen Preston watched as Harvey's flood took over her home.
Coast Guard rescuers on water scooters plucked her from the flood and to safety -- but without her wheelchair.
"I can't walk. I just had surgery on my knee," Preston said. "Right now, I'm in so much pain."
Stuck in the flood? Here's what to do
She found herself taking shelter at Houston's convention center. Many have no idea whether their homes have been destroyed.
"How do you go from here?" Preston said, choking back tears. "Where do you start? Where?"
Entire Texas National Guard activated
Thousands of calls for help have gone out across Houston, and state, local and military rescue units have plucked thousands of stranded residents from the water and deluged homes.
"None of us (is) going to give up," Acevedo said.
The Pentagon is identifying resources, including trucks, aircraft and troops, that can be dispatched for hurricane relief if the request comes, defense officials said. Gov. Greg Abbott activated the entire Texas National Guard, roughly 12,000 Guardsmen, he said Monday.
In Harris County, home to Houston, authorities asked stranded people to hang sheets or towels from their homes so rescuers could spot them more easily.
The scope of how many people are trapped in flooded homes remains unclear.
Rep. Sheila Jackson Lee said she believes the number of trapped residents across Houston could be "tens of thousands."
Strangers come to help
Volunteers with boats jumped in to help authorities in search-and-rescue efforts.
FEMA Administrator Brock Long encouraged more citizens to volunteer, saying recovery efforts would require community involvement. The National Voluntary Organizations Active in Disaster website can direct people to religious and nongovernmental agencies that are helping people in at least 30 counties, he said.
But as water levels have risen, so has the desperation.
In one instance, people started to panic, rushing rescue boats and even shooting at them if they didn't stop, one volunteer rescuer said.
Clyde Cain of the Cajun Navy said that after one of his team's boats broke down, people tried to steal the inoperable watercraft while the crew sought shelter in a delivery truck,
Nursing home residents rescued
"They're making it difficult for us to rescue them," he said. "You have people rushing the boat. Everyone wants to get in at the same time. They're panicking. Water is rising."
Jim McIngvale, who owns furniture stores in Houston and Richmond, also pitched in. He opened his doors to evacuees Sunday and gave 600 people a place to sleep.
"We have tons of mattresses in our warehouse, and we can provide them with a blanket," he told CNN. "We have a restaurant inside the stores, and we are feeding them for free."