This is an archived article and the information in the article may be outdated. Please look at the time stamp on the story to see when it was last updated.
A wave of a torrential downpours is hitting Southern California Friday, while northern parts of the state brace for the impact of more rain on Oroville Dam's damaged spillway early next week.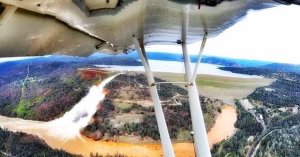 Flash-flood watches affecting more than 21 million people are in effect for Los Angeles, Ventura and southern Santa Barbara counties, the National Weather Service said.
Rainfall totals by the National Weather Service showed that parts of Santa Barbara County have already seen more than 3 inches of rain in the last two days. Parts of Ventura county have also seen rain totals close to 2 inches.
While these areas will see the bulk of rain before the end of the weekend, parts of Northern California can expect a storm late Monday into Tuesday.
"The Oroville Dam and areas around it will see some rain Friday, but the bulk of the rain has shifted south. … Unfortunately, it looks like another storm will pound the region again on Monday," said CNN's senior meteorologist Dave Hennen.
"Over the next week areas around the dam could pick up another foot of rain, which will again likely raise the lake level."
Earlier this week, authorities ordered mandatory evacuations over concerns that an emergency spillway at the dam could fail and threaten nearby communities.
On Tuesday, officials downgraded the evacuation order to a warning, allowing 188,000 evacuees from Butte, Sutter and Yuba counties to return home.
Recent photos of progress made at #OrovilleSpillway. Despite wet weather, ongoing delivery of rock and concrete continues today. pic.twitter.com/NNaBQv9bQb

— CA – DWR (@CA_DWR) February 17, 2017
In southwest California, the National Weather Service warned the area will see the strongest storm to hit this season. "It is likely the strongest within the last six years and possibly even as far back as December 2004 or January 1995," the weather service said.
Parts of the south-facing foothills and coastal mountain slopes could see up to 10 inches of rain through the weekend, meteorologists said.
"The incessant heavy rains, expected to reach up to 1 inch per hour, will dramatically increase the threat of urban flooding, as well as mud and debris flows from recent burn areas near mountainous terrain," CNN meteorologist Derek Van Dam said. "The highest elevations of Los Angeles and Ventura counties will likely experience 1 to 2 feet of snow, with near hurricane-force winds near the tops of mountain overpasses."
Oroville Dam 'is holding up'
The weather brings more worries for communities south of Oroville Dam. Rainfall over the next seven days could total more than 12 inches.
The threat level has been reduced for residents living near the dam, but Butte County officials on Wednesday advised those returning to their homes to "remain vigilant and prepared."
Helicopters dropped rocks and concrete into the erosion area every minute and a half late Wednesday night in "a manner that kind of glues the areas of concern," said Bill Croyle, acting director of the California Department of Water Resources.
Erosion was a concern in three sites, officials said Thursday. The first site has been completely filled, while the other two sites are 25% and 69% filled.
"The dam is holding up, it's structurally sound," said Jay Smith, a spokesman for the California Department of Forestry and Fire Protection.
The Oroville Lake level has dipped to 869 feet, 32 feet below the top. "Everything is going well," Smith told CNN, adding that "we're cautiously optimistic."
But Hennen, the CNN meteorologist, said, "The next week of storms could potentially bring hundreds of billions of gallons of water into Lake Oroville, adding pressure back onto the already compromised structure of the concrete spillway and emergency spillway next to Oroville Dam."
Evacuation warnings remain in place for Oroville and Thermalito as well as "all low-lying areas around the Feather River, which includes Gridley, Biggs, Yuba City, Loma Rica, and anywhere south of Butte County along the River," according to the Butte County Sheriff's Office website.
All schools in Butte County were closed through Friday, except those in Chico and Paradise, officials said.