This is an archived article and the information in the article may be outdated. Please look at the time stamp on the story to see when it was last updated.
After another year of bankruptcies and gloomy reports of dying malls, retailers are at least ending 2017 on a high note — and their prospects are looking up for 2018.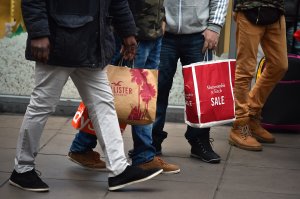 Retail sales were up 4.9% this holiday season, the largest year-over-year gain since 2011, according to Mastercard's SpendingPulse Report, which tracked sales activity across all payment types from Nov. 1 to Dec. 24.
The report said the increase represents a "new record for dollars spent" but did not give a dollar amount. Another research firm, Customer Growth Partners, said that from the start of the holiday season to Christmas Eve, shoppers spent $598 billion, up from $565 billion for the same period last year.
Counting retail's "second season" (the week from Christmas to New Year's), total sales for the holiday shopping season is on track to reach $671 billion, firm President Craig Johnson said.
Read the full story on LATimes.com.