This is an archived article and the information in the article may be outdated. Please look at the time stamp on the story to see when it was last updated.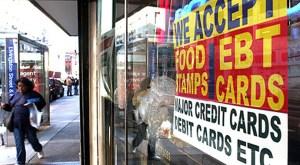 House Republicans on Thursday passed a controversial bill that would drop 3.8 million people from food stamp rolls next year by making it tougher for some families to qualify.
The bill would cut $40 billion from food stamps over the next decade, which would force about 14 million people from the program by 2023, according to the nonpartisan Congressional Budget Office.
It would tighten the rules for getting into the Supplemental Nutrition Assistance Program, which has seen enrollment soar with the struggling economy.  Some 47.6 million people, or nearly 15% of the population, get food stamps, according to September federal data.
In 2007, only 26.3 million, or 8.7% of the population, got food stamps.  The average benefit is $133.19 per person each month.
Click here to read the full story at CNN.com.