This is an archived article and the information in the article may be outdated. Please look at the time stamp on the story to see when it was last updated.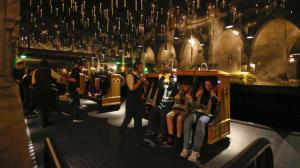 Universal's Harry Potter and the Forbidden Journey has bedeviled many big and tall riders who discover at the last moment that their journey aboard the new attraction is indeed forbidden because they don't fit in the "enchanted benches."
The uncomfortable scene is a familiar one to anybody who has ever visited a theme park: The overweight rider becomes increasingly embarrassed as the ride attendant pushes and shoves with all his might on the over-the-shoulder restraint that stubbornly refuses to click closed. Everybody waiting in line knows what comes next: the walk of shame.
"The walk of shame is an embarrassing experience," said Mike Galvan, who penned the "Big Boy's Guide to Roller Coasters." "I've been there many times. It's disheartening."
Galvan likens the straight back and flat seat on Forbidden Journey to an "old wooden chair" that provides little wiggle room for larger riders.
Click here to read the full story on LATimes.com.