This is an archived article and the information in the article may be outdated. Please look at the time stamp on the story to see when it was last updated.
Lawyers representing more than 450 victims of the Oct. 1 Las Vegas massacre filed multiple lawsuits Monday in Los Angeles County Superior Court, arguing that hotel and concert officials did not do enough to prevent a shooting that left 58 people dead.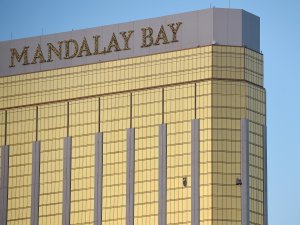 More than 15 additional lawsuits have already been filed as victims seek financial compensation for the attack, in which more than 500 people were injured by gunshots or were trampled. Litigation could stretch for years.
The five new suits announced Monday focus on the Mandalay Bay Resort and Casino, where gunman Stephen Paddock brought in weapons and opened fire at a crowd of concertgoers across the street, as well as its owner, MGM Resorts International. Paddock's estate was also named as a defendant.
The complaints argue that the hotel's operators "breached their duty of reasonable care" by failing to notice that Paddock was amassing guns in his room and by not responding quickly enough when Paddock shot security guard Jesus Campos in the leg before the massacre began.
Read the full story on LATimes.com.