This is an archived article and the information in the article may be outdated. Please look at the time stamp on the story to see when it was last updated.
Hundreds of thousands of people say they are participating in a "Women's March on Washington" the day after President-elect Donald Trump is inaugurated.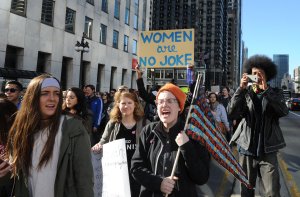 The event, which is publicized on Facebook and scheduled for January 21, has garnered national attention and is titled the "Women's March on Washington." Previously, it was called the "Million Women March on D.C."
As of Saturday, the page had more than 44,000 individuals who said they were going, with more than 121,000 people saying they were interested.
Fontaine Pearson, one of the march's organizers, said in a phone call that the march is not a protest against Trump or the legitimacy of the election, but said it is to shed light on women's issues, including sexual assault and workplace discrimination.
"We're strong, but this has been a very difficult election for a lot of women," Pearson said, also noting that she had seen interest from individuals on both side of political aisle.
Essie Labrot, who lives in West Hartford, Connecticut, said in a phone call she is "definitely going."
Labrot said she has been involved in local and state democratic politics and was a Hillary Clinton supporter, but said this was more than just election politics.
"It's a little more personal for me," Labrot said.
Labrot said she is attending to "show solidarity to women, minorities, and everyone who is going to participate."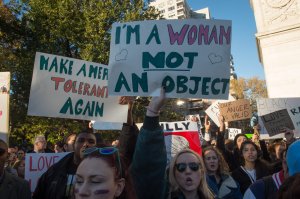 "We're still here, and we will be watching," Labrot said.
The page's description says it is a "inclusive march" for "everyone who supports women's rights," and has multiple additional groups set up by state that are coordinating travel to D.C. for the march.
Pearson said the march is part of a broader grassroots movement that she hopes will allow more action at state levels.
The event's conception comes in light of Trump's White House victory, which has sparked protests in major cities across the United States.
Trump was widely criticized during the campaign for remarks he made in a 2005 tape in which he bragged that he could grope women and get away with it. Soon after, several women came forward alleging that Trump sexually assaulted them.
Clinton won the female vote with 54 percent of women voting for her, but Trump still garnered 42 percent of women voters, despite 70 percent of voters saying Trump's treatment of women bothered them.
"There's a real hunger for this," Pearson said.