This is an archived article and the information in the article may be outdated. Please look at the time stamp on the story to see when it was last updated.
Video released by the Houston Police Department Tuesday shows a group of looters breaking into a business during Hurricane Harvey last month.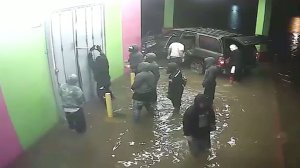 The video, recorded on Aug. 29, shows a small crowd standing knee-deep in water outside a beauty supply store as one person uses a crowbar to pry open a security door.
Police have asked the public for help in identifying the looters, who filled up a gray Chevrolet Tahoe with stolen items before driving off through the flooded streets.
Shortly after the initial group of looters leaves the store, surveillance video shows two more people arriving by boat.
Both enter the store and at least one can be seen walking around with a box-load of merchandise.
Since the crimes occurred during a natural disaster, the penalty will be enhanced, the Police Department stated.