This is an archived article and the information in the article may be outdated. Please look at the time stamp on the story to see when it was last updated.
The 19 firefighters killed while battling an Arizona wildfire last month understood what few did, Vice President Joe Biden told thousands who attended their memorial Wednesday.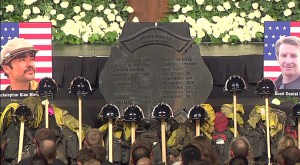 They realized, he told a packed arena in Prescott Valley, that integrity "is measured by whether you respond to the needs of your neighbors."
"(Help) came in the form of 20 Granite Mountain Hotshots who rushed toward the flames as everyone else retreated. And in the process, 19 of them gave their lives," Biden said.
"These men were some of the strongest, most disciplined, tenacious, physically fit men in the world — an elite unit in every sense of that phrase," Biden said. "… They raced to embrace life just like they raced (to) the fight against … the raging fire on Yarnell Hill."
Biden and other dignitaries — including Gov. Jan Brewer and the state's U.S. Sens. John McCain and Jeff Flake — joined relatives and a grieving community for the memorial, which paid tribute to the 19 elite firefighters who were overcome by a raging inferno on June 30.
Click here to read more at CNN.com.