This is an archived article and the information in the article may be outdated. Please look at the time stamp on the story to see when it was last updated.
Thomas Homan, the acting director of U.S. Immigration and Customs Enforcement, announced in a statement on Monday he plans to leave government.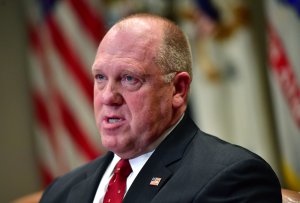 "It has been the honor of my life to lead the men and women of ICE for more than a year," Homan said in a statement. "The decision to leave federal service after more than 34 years is bittersweet, but my family has sacrificed a lot in order for me to serve and it's time for me to focus on them."
As acting director of the agency, Homan has been a fierce defender of the Trump administration's immigration policies.
Homan, a career law enforcement officer, served as the public face of the administration's aggressive efforts to step up immigration enforcement. He often took the microphone, including at White House briefings, to defend his agents' arrests of undocumented immigrants, to call for more robust enforcement and to attack sanctuary city policies. He drew attention last year for telling Congress that undocumented immigrants "should be afraid," and stood by the comments to CNN at the time.
An ICE official, speaking on background, said Homan, the agency's deputy director, was originally set to retire in January 2017, but agreed to remain at the agency as acting director when then-Homeland Security Secretary John Kelly asked him to stay on. The official went on to say that Homan was asked to accept the nomination after being told last fall that the administration had not found a nominee for permanent director.
"Due to family considerations, he informed DHS leadership early this year that he planned to retire this summer and was asked by the secretary to remain in his position in the interim to assist with transition planning," said the official.
Homan's announcement comes as the Trump administration continues to see turnover among top officials and has its immigration policies at the forefront of the public eye.
Around the same time as Homan's announcement, a caravan of migrants seeking asylum began to reach the U.S. border with Mexico, with dozens vowing to wait at the border until they are all admitted to the U.S.