This is an archived article and the information in the article may be outdated. Please look at the time stamp on the story to see when it was last updated.
At first, many of those enjoying a Saturday night inside a cavernous nightclub in Orlando, Florida, thought the sound of shots was just part of the show, loud beats punctuating the soundtrack.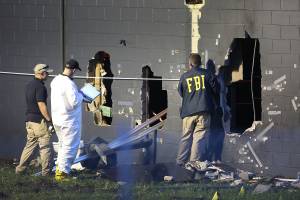 The music was blaring and people were dancing at Pulse when gunfire erupted at the popular club just after 2 a.m. Sunday.
By the time SWAT teams used an armored vehicle to smash down the front door three hours later, at least 50 people were dead, more than 50 others wounded.
It would become the deadliest mass shooting in U.S. history.
Survivors describe a scene of chaos, made more terrifying by the darkness and loud music.
Some entertainers inside the nightclub said they hid in the dressing room when the shooting started. They were able to escape the building by crawling out when police removed the air conditioning unit.
One employee said she hid under the glass bar. Police came in and said, "If you are alive, raise your hand." Then police got her and others out.
A person who hid in the bathroom said she survived by covering herself with bodies.
Witnesses described their ordeal in heart-wrenching detail.
It started as a regular Saturday night
Ray Rivera was the DJ on Saturday night at Pulse.
"I heard something that sounded like firecrackers and I heard it again and I hear — and I hear it again and that's when everyone came barreling out to get out, and was jumping over the fences and stuff," he said.
"Two people went underneath my DJ booth and it was a guy and a girl. The guy took off and the girl was down there panicking and I told her she needed to be quiet and as soon as there was a break in the shots I pushed her and said let's go."
Rivera said it was just a regular Saturday night and everyone was having a great time until the chaos began. He said he has worked there for years and the club is his family.
Music went with beat
Christopher Hansen said he was getting a drink at the bar about 2 a.m. when he heard loud banging sounds. He said the gunshots almost kept time to the beat of the music.
It "could have lasted a whole song," he said.
But when it went on for far too long, Hansen realized what was happening. He hit the ground and crawled on his elbows and knees to safety.
Along the way he helped others.
When he spotted a man who had been shot, "I took my bandana off and shoved it in the hole in his back," Hansen said. He said he also helped another woman who appeared to be shot in the arm.
Luis Burbano told a similar story.
"The DJ was playing a typical set that incorporated what we thought was gunshots as part of the music," he said.
"Four shots — bop, bop, bop, bop — but for some reason it was different. No one put two and two together until the fifth and sixth. Between 10 and 20, that's when everything really started getting real, and then we all at that point did a domino effect all to the floor."
He and about 20 other people pushed their way outside through a narrow "cabinet-looking" door, and through a fence with a gaping hole.
Nicholas Hornstein was asleep at his apartment near the club when the gunshots woke him.
"I look out the window and there's just mass hysteria, people running from the club, trying to help people get away from the club, help the injured move away from the club, people with injuries to appendages trying their best to get away and help others," Hornstein said.
"I heard about a dozen shots after I woke up and after that just people screaming for help, yelling, running around, 'call 911'."
'We're standing up and we're fighting'
Andy Moss was by the front door with a friend when he heard the shots.
He, too, initially thought it was all part of the show.
"Once people started screaming and shots just keep ringing out you know that it's not a show anymore and you got to do what you got to do," he said. "Once people started screaming, my first instinct was to run … I knew it was not a game anymore."
Moss said he is not very religious person. But he urged everyone to pray.
"It's always said that God gives his hardest battles to the strongest people," Moss said, his voice breaking.
"We're standing up and we're fighting, that's all we can do. All we can do is fight."