This is an archived article and the information in the article may be outdated. Please look at the time stamp on the story to see when it was last updated.
Determined to demonstrate that large numbers of Americans remain committed to fighting climate change, a loose alliance of cities, states, companies and universities from across the United States gathered on the fringes of a United Nations climate conference in Bonn Saturday to pledge their support for the Paris agreement.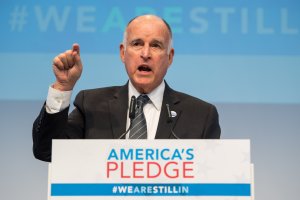 California Gov. Jerry Brown, former New York City Mayor Michael Bloomberg and former U.S. Vice President Al Gore were among the leaders of the U.S. coalition during a series of speeches and panel discussions in a grand pavilion named the "U.S. Climate Action Center." It was set up just outside the building where the U.N. climate conference is taking place. The American political and business figures told the audience that states, cities and businesses have real power that they can leverage in the fight against climate change even though the federal government wants to bail out.
"It is important for the world to know — the American government may have pulled out of the Paris agreement, but the American people are committed to its goals, and there is nothing Washington can do to stop us," Bloomberg told the audience in the packed tent. He noted that the alliance of 20 states, 110 cities and 1,400 businesses would be the world's third-largest economy and represented about half of the U.S. economy.
President Trump announced in June that the United States will withdraw from the 2015 Paris agreement at the first possible date in 2020, arguing it was detrimental to U.S. business. Trump has expressed doubt about climate change, questioning how much human activity has contributed.
Read the full story on LATimes.com.