This is an archived article and the information in the article may be outdated. Please look at the time stamp on the story to see when it was last updated.
The US government will bar American citizens from traveling to North Korea because of "mounting concerns over the serious risk of arrest and long-term detention," the State Department said Friday.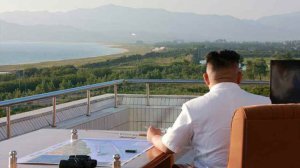 Secretary of State Rex Tillerson authorized a "geographical travel restriction" on all US nationals' use "of a passport to travel in, through, or to North Korea," State Department spokeswoman Heather Nauert said.
The notice will be placed in the Federal Register on Thursday — 64 years to the day after a cease-fire agreement ended fighting in the Korean War — and the restriction will go into effect 30 days after that.
There will be exceptions, though they'll require special approval, Nauert said.
"Once in effect, US passports will be invalid for travel to, through and in North Korea, and individuals will be required to obtain a passport with a special validation in order to travel to or within North Korea," she said. "Individuals seeking to travel to North Korea for certain limited humanitarian or other purposes may apply to the Department of State for a special validation passport."
Tour groups aware of the move
Two tour groups catering to Western tourists who want to visit the secretive nation first revealed details of the ban to CNN, which reported it earlier Friday.
Beijing-based Koryo Tours was told by Swedish government officials that the United States planned to prohibit Americans from traveling to North Korea, the tour agency's general manager, Simon Cockerell, told CNN. The Swedish government represents America's interests in North Korea.
Another agency, Young Pioneer Tours, issued a statement Friday saying it was told that the US government will no longer allow US citizens to travel to North Korea. The ban will become effective within 30 days of July 27, it added.
"After the 30 day grace period any US national that travels to North Korea will have their passport invalidated by their government," the statement says.
Tragic fate
Beijing-based Young Pioneer Tours had organized US college student Otto Warmbier's trip to North Korea.
Warmbier was arrested last year while on the sightseeing tour. After being held prisoner by North Korea for 17 months, Warmbier in June was handed over to the US in a vegetative state. He died a few days later in Ohio.
Following Warmbier's death, Young Pioneer Tours announced it would no longer organize tours for US citizens to North Korea.
The United States last month had been "contemplating" a ban, Nauert said at the time.
A bipartisan bill working its way through the House would outlaw most US travel to North Korea for five years. The legislation would ban tourism travel altogether and require US citizens who do visit the country to get a license from the Treasury Department.
Three other Americans are in North Korean captivity.
Kim Dong Chul, the president of a company involved in international trade and hotel services, was arrested in 2015 and is serving 10 years on espionage charges.
Kim Sang Duk, also known as Tony Kim, a university professor, was detained in Pyongyang in 2017 and accused of attempting to overthrow the government.
Kim Hak-song, a native Korean born in China (Jin Xue Song is the Chinese version of his name) was detained May 6 on suspicion of "hostile acts" against the regime. He is a professor at the same university as Tony Kim.