This is an archived article and the information in the article may be outdated. Please look at the time stamp on the story to see when it was last updated.
In his first year in office, President Donald Trump's administration's arrests of immigrants — especially those without criminal convictions — were up substantially, but actual deportations lagged behind his predecessor, according to statistics released Friday.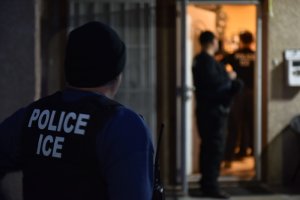 The jump corresponds to Trump's central pledge to crack down on illegal immigration, at least in terms of casting a wide net to catch undocumented or deportable immigrants.
Days after being inaugurated, one of Trump's first actions was to release immigration agents of specific prioritization of who to go after, giving them wide discretion to target almost any undocumented immigrant as a priority.
According to new data from Immigration and Customs Enforcement, there was a 41% increase in the number of undocumented immigrants who were arrested by the agency in 2017 compared to 2016.
But the increase was driven by the agency arresting a significantly higher rate of immigrants without a criminal background. While the share of criminals arrested was up 17%, there was an increase 10 times that — of 171% — in the share of non-criminals arrested.
ICE had previously released fiscal year data, but on Friday released additional numbers from the last three months of 2017 as well, allowing for the year-to-year comparison.
In 2017, ICE made routine arrests of more than 155,000 immigrants, 30% of whom were not criminals. The final three months of the year, the rate of non-criminals arrested was even higher, at 35%.
That number was far lower, though, in 2016. That year the Obama administration arrested almost 110,000 immigrants, nearly 16% of whom were not criminals. In 2014, Obama's Department of Homeland Security set priorities for ICE that focused first on serious criminals and national safety threats, followed by other public safety threats and immigrants who had recently had an order of deportation signed.
Unlike the increased arrests, at the end of 2017, deportations continued to lag behind the Obama administration's pace, despite Trump's repeated pledges to get undocumented immigrants "out" of the country.
In 2017, the administration deported nearly 215,000 immigrants, 13% fewer than the nearly 250,000 deported in 2016. The percentage of those individuals who were non-criminals was steady at just over 40%.
Deportations are a complex statistic to compare, however, because it can take many years to work an individual case through the immigration courts. The administration has also cited a decrease in the number of people apprehended at the border as part of the lagging numbers.