This is an archived article and the information in the article may be outdated. Please look at the time stamp on the story to see when it was last updated.
A 19-year-old Indiana man charged in the slayings of three people over a four-day period last month was inspired by the horror movie "The Purge," according to KTLA sister-station WXIN.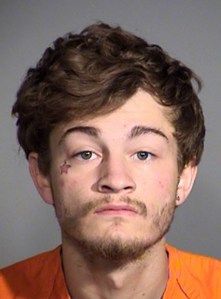 Jonathan Cruz is accused of committing the killings between May 12 and 15, the Indianapolis-area station reported, citing court documents. He was charged Wednesday in connection with the deadly spree, including multiple counts of murder and robbery.
"The charges against Mr. Cruz arise out of statements made to several witnesses, photos, videos and text messages taken from a phone seized from him when he was arrested on May 16," Marion County prosecutor Terry Curry said, according to WXIN.
Cruz allegedly sent texts to at least one friend referencing the 2013 film.
"For those of you familiar with the movie 'The Purge,' the premise of that movie was for one night each year the government would allow citizens to commit any crime without fear of prosecution," Curry said, according to television station WISH in Indianapolis.
Cruz allegedly told witnesses he was going "purging," posting explicit messages that included, "I purge every night now," WXIN reported.
He randomly targeted his three victims, who have been identified as Billy Boyd, Jay Higginbotham and Jose Ruiz, according to the prosecutor.
During the week of the violent spree, Cruz was also accused of kidnapping a woman at gunpoint. He allegedly told the victim he had killed before, WXIN reported.
"Another body wouldn't mean anything," he said, according to the documents.
Cruz could potentially face the death penalty, WXIN reported.
He is expected to appear in court Thursday.