This is an archived article and the information in the article may be outdated. Please look at the time stamp on the story to see when it was last updated.
Authorities are searching for an inmate with skeleton-like facial tattoos who went missing from his work crew in the San Joaquin Valley Monday.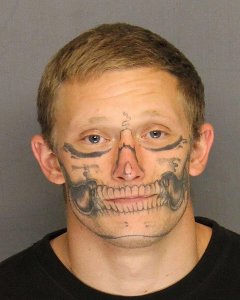 The inmate, 27-year-old Corey Hughes, was last seen in the area of Country Club Boulevard and the 5 Freeway in Stockton, the San Joaquin County Sheriff's Office stated on its Facebook page.
The search for Hughes began about 1:30 p.m. after his work crew notified the Sheriff's Department of his disappearance.
Hughes has been convicted on a weapons charge and was being housed in the Honor Farm.
His was due to be released on Feb. 6, 2018.
Anyone who sees Hughes was asked to call the Sheriff's Office at 209-468-4400.