This is an archived article and the information in the article may be outdated. Please look at the time stamp on the story to see when it was last updated.
There was no evidence a crime was committed when a U.S. Border Patrol agent was killed more than two months ago while on patrol in West Texas, according to a new government memo obtained by CNN.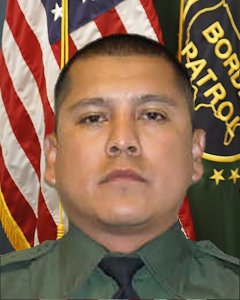 The internal memo from U.S. Border Patrol acting Chief Carla L. Provost is the third indication that there appears to be no evidence of foul play that led to the mysterious death of U.S. Border Agent Rogelio "Roger" Martinez in November.
Martinez, 36, died hours after he was injured on Nov. 18. He was patrolling alone near Interstate 10 when he stopped his vehicle about 12 miles east of Van Horn, Texas. He and his partner, Stephen "Michael" Garland, were found injured near a concrete-lined culvert, a tunnel structure used for water drainage.
Garland reportedly told investigators he could not remember anything about what happened.
Last week, FBI investigators said they had found no evidence so far of an attack or scuffle in Martinez's death. The FBI said it had interviewed hundreds of people, combed through cellular data and analyzed DNA from the scene.
The agents were patrolling in separate vehicles and it's unclear why both ended up at the bottom of the culvert, the FBI said.
An earlier memo from acting U.S. Customs and Border Protection Commissioner Kevin McAleenan said "there were no defensive wounds" on Martinez and his partner and "there was no third-party blood or DNA evidence from the scene or from the agents' clothing."
McAleenan's memo also said the only other footprints at the scene belonged to the agents and first responders.
Shortly after the incident, Texas politicians — including Gov. Greg Abbott and Sen. Ted Cruz — described the incident as "an attack." A spokesman for the National Border Patrol Council, the union that represented the officers, said it was an "ambush." And President Donald Trump said the injured agent had been "brutally beaten" as he called again for the construction of a wall between the United States and Mexico.
Last month, a medical examiner in Texas said Martinez died from blunt injuries to his head, but the manner of his death is undetermined.
Martinez's injuries included fractures to his skull, right jaw, upper ribs and his right collarbone, according to an autopsy report released by the El Paso County Medical Examiner's Office.