This is an archived article and the information in the article may be outdated. Please look at the time stamp on the story to see when it was last updated.
Los Angeles' rollercoaster campaign to host the Olympics — an effort marked by early defeat and last-second negotiations — reached its conclusion Wednesday when the city was formally awarded the 2028 Summer Games.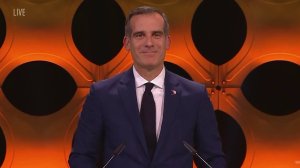 International Olympic Committee members, by a unanimous show of hands, voted their approval at a session in Lima, Peru, ending an unusual bid competition that resulted in two winners as Paris was simultaneously given the 2024 Games.
"Everyone connected with LA 2028 is thrilled to be part of this win-win-win scenario for the Olympic movement," bid leader Casey Wasserman said in a statement. "Together, L.A., Paris and the IOC will demonstrate the Games' enduring value to host communities."
Immediately after the vote, Mayor Eric Garcetti signed the controversial "host city contract," promising the city government will serve as a financial backstop, paying off any debts should the estimated $5.3-billion sporting event run over budget.
Read the full story on LATimes.com.