This is an archived article and the information in the article may be outdated. Please look at the time stamp on the story to see when it was last updated.
Iran's most powerful political and religious figure has said the United States' "feet must be cut off" in the Middle East as US Secretary of State Mike Pompeo renewed his criticism of Tehran during his tour of the region.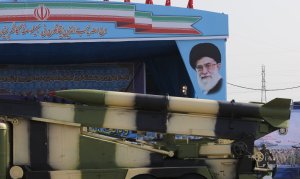 "Wherever US entered, it created instability, brought misery to people; that's why US's feet must be cut off from West Asia; US must exit this region," Ali Khamenei, Iran's Supreme Leader said in a tweet on Monday. Khamenei also accused the US of stoking tension between Iran and Saudi Arabia.
Speaking in Saudi Arabia at a joint press conference with his Saudi counterpart on Sunday, Pompeo called ran "the greatest sponsor of terrorism in the worlld."
The comments seemed to further signal that the US could pull out of the Iran nuclear deal within two weeks. US President Donald Trump has until May 12 to decide whether to continue waiving sanctions on Iran that were lifted under the Iran deal, formally known as the Joint Comprehensive Plan of Action.
As part of the 2015 pact — agreed by Trump's predecessor Barack Obama, some European countries, Russia and China — Iran must reduce its uranium stockpile in return for international sanctions being lifted.
"US officials agitate Saudis, creating discord and chaos in West Asia … they want to turn Muslims against one another," Khamenei said in a tweet. Iran and Saudi Arabia are longtime regional rivals and have been embroiled in an escalating war of words in recent months.
In the series of tweets Monday, the ayatollah said the US planned to provoke "ignorant" governments, an apparent swipe at Saudi Arabia.
"If these govt. officials gain some wisdom, they won't confront the Islamic Republic; but, if they stand against Iran, they will certainly suffer from defeat," tweeted Khamenei.
Saudi Arabia has repeatedly come out against the Iran nuclear deal, and called on Western allies to clamp down on its rival's ballistic missile program. Trump has insisted that a new Iran deal should restrict Iran's missiles.
Iran says it will resist any efforts to disarm it. "The enemies want us disarmed while they threaten us; this is an immoral, irrational and ambitious demand," Lieutenant Commander of Islamic Revolution Guards Corps said on Monday, according to Iran's Fars news.
Saudi Arabia accuses Iran of supplying Yemen's Houthi rebels with weapons. Saudi officials have accused the group of using Iran-made ballistic missiles in their attacks on the kingdom in recent months.
Speaking on Sunday in Tel Aviv alongside Israeli Prime Minister Benjamin Netanyahu, Pompeo said the two had discussed Iran and reiterated US support for Israel.
'In breach of the JCPOA'
Meanwhile, the UK, France and Germany — the three European countries party to the deal — have scrambled to preserve the deal in the face of Trump's threats to withdraw.
Iranian President Hassan Rouhani and French President Emmanuel Macron spoke by phone for more than an hour Sunday, agreeing to work closely to maintain the deal, according to a statement from Elysee Palace.
Macron said he wanted to keep the original deal but called for further talks on areas the Trump administration singled out for criticism. Trump has repeatedly spoken out against the so-called sunset provisions which allow restrictions on Iran's nuclear program to expire at certain dates.
Meanwhile, Iranian President Hassan Rouhani accused Trump of already breaching the deal.
The "current conduct of the United States would be in breach of the JCPOA," Rouhani said.
He added that the Trump administration's negative comments about the deal had created "fear and ambiguity for different countries and businesses for their relations with Iran," undermining the benefits of the deal.