This is an archived article and the information in the article may be outdated. Please look at the time stamp on the story to see when it was last updated.
The nonprofit run by one of America's most prominent white nationalists, Richard Spencer, has lost its tax-exempt status for failing to file tax returns with the federal government, according to Internal Revenue Service records.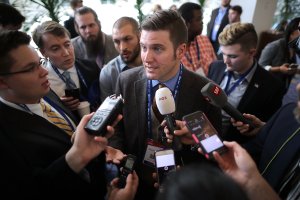 An inquiry by the Los Angeles Times also raised questions about whether Spencer had properly filed paperwork allowing the National Policy Institute to raise funds in Virginia, its primary place of business, and whether Spencer, a Donald Trump supporter, had flouted federal rules that forbid nonprofits from supporting or opposing political candidates.
On Monday, Spencer said an IRS error led him to believe his group was not required to file federal tax returns, and said he would appeal the loss of his tax-exempt status.
"I don't know what to say. I don't want to make a comment because I don't understand this stuff," Spencer said in a telephone interview. "It's a bit embarrassing, but it's not good. We'll figure it out."
Click here to read the full story on LATimes.com.