This is an archived article and the information in the article may be outdated. Please look at the time stamp on the story to see when it was last updated.
The death toll in Friday's attack on buses carrying Coptic Christians in Egypt has risen to 29, officials said, as the Islamist terror group ISIS claimed responsibility for the massacre.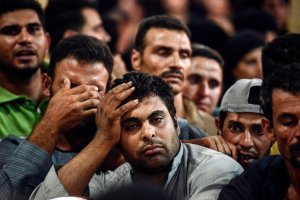 The buses were on a desert road headed to a monastery in the Minya governorate south of Cairo when assailants wearing fatigues and masks fired on them from three four-wheel-drive vehicles, Egypt's Interior Ministry said.
Hours later, Egypt responded with airstrikes against terrorist camps, President Abdel Fattah al-Sisi said in an on-camera statement, according to state-run Nile TV. The exact location of Friday's airstrikes was unclear, but Nile TV reported that Egypt has targeted terrorists in the Sinai Peninsula and on the border with Libya.
Friday's attack, which killed children as well as men and women, is the latest major deadly assault against minority Christians in the Middle East's most populous country.
Persecution of Egypt's Christians has spiked since the toppling of Hosni Mubarak's regime in 2011, and as an ISIS affiliate wages an insurgency on Egypt's Sinai Peninsula. ISIS militants have targeted Coptic Christians several times in recent years, triggering a mass exodus of Christians from some towns.
The latest attack comes as Egypt remains under a three-month state of emergency following twin attacks on Coptic churches on Palm Sunday that killed dozens of people. ISIS claimed responsibility.
Traveling to a monastery
The Coptic Christians were traveling Friday to St. Samuel the Confessor, around 62 miles northwest of the city of Minya, when they came under fire, the Interior Ministry said.
The death toll rose by one to 29, Egypt's Cabinet said in a statement published late Friday by the state-run Middle East New Agency.
More than 20 people were injured, and some were in critical condition, Minya Gov. Essam El-Bedewy told Egyptian satellite channel ONTV.
ISIS claim
ISIS claimed responsibility for the attack through its Amaq media wing, according to the Site Intelligence Group, a terror monitoring group.
President Donald Trump said Friday that the "merciless slaughter of Christians in Egypt tears at our hearts and grieves our souls."
"Wherever innocent blood is spilled, a wound is inflicted upon humanity," Trump said in a statement. "But this attack also steels our resolve to bring nations together for the righteous purpose of crushing the evil organizations of terror, and exposing their depraved, twisted, and thuggish ideology."
Spate of attacks
Coptic Christians make up about 10% of Egypt's population of 91 million. They base their theology on the teachings of the apostle Mark, who introduced Christianity to Egypt.
They have increasingly been under attack in Egypt. Coptic churches and homes have been set on fire, members of the Coptic minority have been physically attacked, and their property has been looted, rights group Amnesty International reported in March.
In addition to last month's Palm Sunday attacks, a December attack on a Coptic church in Cairo left 25 people. A church in Minya was torched in 2013, gutting its interior.