This is an archived article and the information in the article may be outdated. Please look at the time stamp on the story to see when it was last updated.
A Los Angeles man was one of the Israeli soldiers killed in Gaza this weekend as fighting intensified.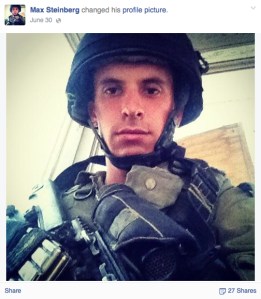 Max Steinberg was a Woodland Hills native and voluntarily joined the Israel Defense Forces, according to the Jewish Journal. According to voter records, he was 24 years old.
Steinberg graduated from El Camino Real high school in 2008, studied at Pierce College, joined the Israeli army in 2012 and was a sharpshooter in the Golani Brigade, his Facebook page says.
It was unclear exactly how Steinberg died, but the Israeli military announced Sunday that 13 members of the Golani Brigade were killed by militants this weekend in the northern Gaza Strip. Seven of them died when an explosive device hit an armored vehicle, one in a firefight, two in a separate attack and three in a burning building, the Israel Defense Forces said.
Click here to read the full story on LATimes.com.