This is an archived article and the information in the article may be outdated. Please look at the time stamp on the story to see when it was last updated.
Jane Little, a bassist who held the Guinness World Record for the longest professional tenure with a single orchestra, died Sunday night after collapsing on stage during a performance earlier that afternoon.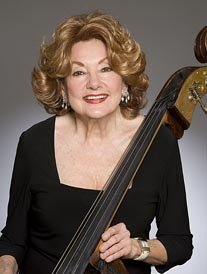 She was 87 years old.
Little joined the Atlanta Symphony Orchestra at 16 years old after studying bass in high school for two years, the group said in a statement.
She was a charter member of the Atlanta Youth Symphony Orchestra in 1945, playing under all four of the ASO's music directors.
"We can truly say that Jane Little was fortunate to do what she loved until the very end of her storied life and career," the ASO said in a statement. "The Atlanta Symphony Orchestra was truly blessed to have Jane as part of our family for the past 71 years and we all miss her passion, vitality, spirit and incredible talent."
Little achieved the tenure record in February despite being in poor health, the orchestra said.
"It truly is unbelievable and fitting that she spent her last day at her home on the stage at Symphony Hall," Tammy Hawk, a spokeswoman for the orchestra, told CNN.
The Atlanta native performed under guest conductors including Igor Stravinsky and Sir John Barbirolli, while also touring with with American Ballet Theatre and Boris Goldovsky Opera Theatre.
She was married to the orchestra's principal flautist, Warren Little, for 41 years before he passed away.