This is an archived article and the information in the article may be outdated. Please look at the time stamp on the story to see when it was last updated.
A judge has dismissed disorderly conduct charges against leftist protesters who burned an American flag outside the Republican National Convention in Cleveland last year, ruling Tuesday that they were arrested for practicing 1st Amendment-protected free speech.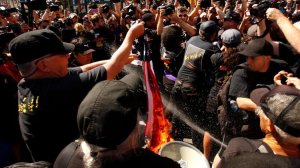 The misdemeanor case against 12 of the protesters had lingered in Cleveland Municipal Court for more than a year before Judge Charles L. Patton granted the protesters' motion to dismiss the case on free-speech grounds. Patton cited a 1989 U.S. Supreme Court decision that flag-burning was protected by the 1st Amendment.
"The government may not prohibit the verbal or nonverbal expression of an idea merely because society finds the idea offensive or disagreeable, even where our flag is involved," Patton wrote in his ruling.
In a telephone interview, Patton said: "The guy was doing what he did, and the Supreme Court said he could do it." When Patton reviewed video of the incident, "It looked like they were doing a peaceful protest."
Read the full story on LATimes.com.