This is an archived article and the information in the article may be outdated. Please look at the time stamp on the story to see when it was last updated.
A Democratic candidate in Kentucky said Monday that she will pull her campaign ads from a local Sinclair station and called on other Democrats to do the same.
Amy McGrath, a retired Marine running in a tough primary to challenge Republican US Rep. Andy Barr, said she had instructed her campaign team "to cease and pull all campaign advertising on WDKY-TV (Channel 56), the Sinclair-owned television station in our congressional district, as soon as possible."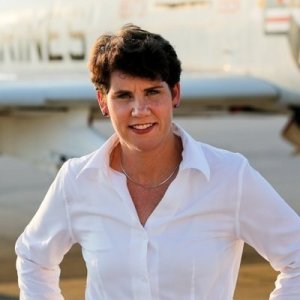 McGrath cited a viral video from Deadspin that splices together clips of local news anchors at Sinclair-owned stations all reading from the same script decrying "fake stories" in the press and online.
McGrath said the script "eerily mimics the propaganda efforts that authoritarian regimes often use to control the media in their own country" and called on all Democratic candidates in the country to join her in a boycott of Sinclair.
"I call on all Democratic candidates across the country to take a firm stand against this frightening development to our Democracy and refuse to buy advertising time on all Sinclair-owned television stations," McGrath said in a statement.
Mark Nickolas, McGrath's campaign manager, told CNN that their media buyer had informed them the station would refund their purchases for the rest of the week and said that after Monday, they had no planned presence on the Sinclair station's airwaves.
"It's happening right now," he said.
Sinclair has defended its script as a "corporate news journalistic responsibility promotional campaign."
Most of Sinclair's stations are CNN affiliates — meaning CNN shares content and resources with them and vice versa.
Jamie Emmons, the campaign manager for McGrath's primary opponent, Lexington Mayor Jim Gray, told CNN they would not pull their ads from the Sinclair station.
"Sinclair's approach is a disgrace to journalism, but we're not going to write people off just because of the TV shows they watch," Emmons said. "If we cut and run, then the people trying to spread this garbage are the only ones doing the talking. Jim Gray has always been about bringing people together to find common ground, and he is going to go after every vote, everywhere in this district. That's how Jim beat Rand Paul in the district in 2016 and that's what it will take in 2018."