This is an archived article and the information in the article may be outdated. Please look at the time stamp on the story to see when it was last updated.
The most important saved recording on the Ingram family DVR is titled: "Houston Rockets vs. Los Angeles Lakers" from Tuesday night. The game has been on loop at Lucious and Yvonne Ingram's Virginia home after their son, 32-year old Andre Ingram, became the talk of the basketball world in his NBA debut.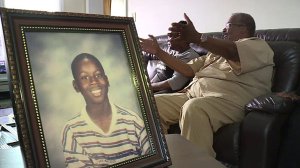 Ingram, who graduated and starred at Highland Springs High School, spent the past decade playing in the NBA's developmental league and overseas, KTLA sister station WTVR reported.
At the end of the "G-league" regular season earlier this week, the Los Angeles Lakers signed him for their final two regular season game. Tuesday night against the Rockets, Ingram poured in 19-points in front of tens of thousands of fans at the Staples Center with the crowd chanting "M-V-P!"
Lucious and Yvonne watched in awe and excitement at their Eastern Henrico home, where Andre grew up.
"Heck, I think I would have fainted at the scorers table. I had no idea he would be that comfortable," said a beaming Lucious. "I didn't expect him to go out there and bust lose like he did! It's like he belonged there the whole time, which we always felt! Of course, we're parents you know."
Wednesday at the Ingram's home has seen a steady stream of friends stopping by and calling Lucious and Vyonne to congratulate them on their son's big night.
"I could barely get in the bathroom to get myself dressed because the phone was ringing and the text messages was coming," Yvonne Ingram said. "It is a blessing. It's a blessing. It's something we prayed about. I've been telling him, this is your year son. Just keep going, this is your year."
"He's just a blessed and divinely favored kid. We're just loving every minute of it. Wish the phone would stop ringing, but we're loving every minute of it!" said Lucious Ingram.
Andre Ingram graduated from American University with a degree in physics, and his parents said they are just as proud of him for that accomplishment. Ingram signed with the Lakers through October of this year, and his parents said he plans on playing basketball professionally as long as his body allows.
NBA superstars and hall of famers heaped praise on Ingram for sticking to his dream and working for years to get his chance. While his parents were ecstatic about Andre's success, they were not surprised. They had seen the thousands of hours of hard work their son had poured into his craft over all these years.
"This is what comes of that. It may not come immediately. But if it's a good thing you're striving for you just got to keep banging your head against the wall, sometimes. It'll come down," Lucious Ingram said. " It came down for my son, and I couldn't be more happy or proud of him."