This is an archived article and the information in the article may be outdated. Please look at the time stamp on the story to see when it was last updated.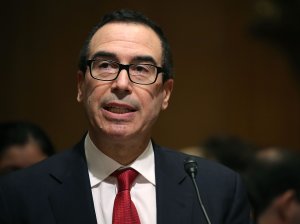 Someone sent a package wrapped in holiday gift paper and filled with horse manure that was addressed to United States Treasury Secretary Steven Mnuchin and placed on a street in Bel-Air, the Los Angeles Police Department said Saturday evening.
The package was reported to police after it was discovered in the 900 block of Bel-Air Road, LAPD officials said.
LAPD Sgt. R. Briggs described the contents of the package to be horse feces.
It was initially said to be a suspicious package but officials later said its contents were not a threat. Police did not release further information about the package.
Before being sworn in as part of the Trump Administration in February, Mnuchin worked as the finance chairman for Donald Trump's campaign for president. He previously worked in banking and finance before joining public service, acting as CEO of Dune Capital Management and working for The Goldman Sachs Group earlier in his career.
His wife, Louise Linton, once went viral for belittling a woman on Instagram for making less money than her, and later this year, the couple again made headlines when they posed with a sheet of money in a photo widely mocked on social media.