This is an archived article and the information in the article may be outdated. Please look at the time stamp on the story to see when it was last updated.
Backers of laws allowing marijuana use in California are girding for a possible political and legal battle against President-elect Donald Trump's pick for attorney general, Sen. Jeff Sessions, a staunch foe of pot legalization.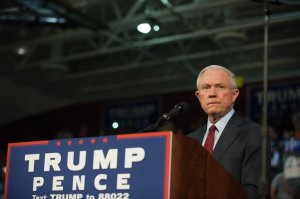 Marijuana industry leaders in the state and around the U.S. have launched an opposition campaign to the Senate confirmation of the Republican senator from Alabama and are appealing to the Trump camp to make sure the president-elect's policies are consistent with his campaign comments that he favors allowing states to decide how to enforce marijuana laws.
"We are very concerned, because Sen. Sessions has a strong record of opposition to marijuana reform," said Bill Piper, a senior director of the Drug Policy Alliance, a national legalization group that supported California's Proposition 64, which legalizes recreational use of marijuana.
Sessions said at a legislative hearing in April that "good people don't smoke marijuana," a drug that he said is "dangerous." He went on to say, "We need grown-ups in charge in Washington to say marijuana is not the kind of thing that ought to be legalized."
Click here to read the full story on LATimes.com.