This is an archived article and the information in the article may be outdated. Please look at the time stamp on the story to see when it was last updated.
At a news conference Wednesday, authorities expressed belief that former police officer Joseph James DeAngelo, 72, committed 12 killings and at least 50 rapes across California in the 1970s and 1980s.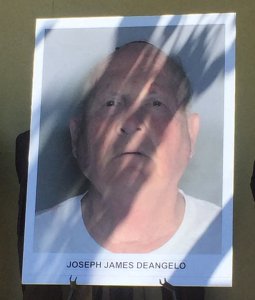 DeAngelo was arrested Tuesday night after investigators matched a discarded DNA sample from his home to evidence from the investigation. He faces capital murder charges in connection with two killings in 1978. DeAngelo also is accused of murder by authorities in Orange and Ventura counties, according to documents and officials.
Prosecutors said authorities are investigating whether he is connected to other violent crimes attributed to the so-called Golden State Killer, who was also known as the East Area Rapist and the Original Night Stalker.
During the news conference held by the Sacramento district attorney, officials handed out a long list of crimes that prosecutors said they believe were committed by the East Area Rapist between June 1976 and July 1979, and the Golden State Killer between October 1979 and May 1986:
1976
• June 18 sexual assault/ rape, Rancho Cordova, Sacramento County
• July 17 sexual assault / rape, Carmichael, Sacramento County
• August 29 burglary/ attempted sexual assault, Rancho Cardova
• September 4 sexual assault / rape, Carmichael
• October 5 sexual assault / rape, Citrus Heights, Sacramento County
• October 9 sexual assault / rape, Rancho Cardova
• October 18 sexual assault / rape, Carmichael
• October 18 carjacking, Rancho Cordova
• November 10 kidnapping, Citrus Heights
• December 18 sexual assault / rape, Carmichael
1977
• January 18 sexual assault / rape, Sacramento, Sacramento
• January 24 sexual assault / rape, Citrus Heights
• February 7 sexual assault / rape, Carmichael
• February 16 assault / attempted murder, Sacramento
• March 8 sexual assault / rape, Sacramento,
• March 18 sexual assault / rape, Rancho Cordova
• April 2 sexual assault / rape, Orangevale, Sacramento County
• April 15 sexual assault / rape, Carmichael
• May 3 sexual assault rape, Sacramento
• May 5 sexual assault / rape, Orangevale
• May 14 sexual assault / rape, Citrus Heights
• May 17 sexual assault / rape, Carmichael
• May 28 sexual assault / rape, Sacramento
• September 6 sexual assault/ rape, Stockton, San Joaquin County
• October 1 sexual assault / rape, Sacramento
• October 21 sexual assault / rape, Sacramento
• October 29 sexual assault / rape, Sacramento
• November 10 sexual assault / rape, Sacramento
• December 2 attempted sexual assault, Sacramento
1978
• January 28 sexual assault/ rape, Carmichael
• February 2 two murders, Rancho Cordova
• March 18 sexual assault / rape, Stockton, San Joaquin County
• April 14 sexual assault / rape, Sacramento
• June 5 sexual assault / rape, Modesto, Stanislaus County
• June 7 sexual assault rape, Davis, Yolo County
• June 23 sexual assault/ rape, Modesto
• June 24 sexual assault / rape, Davis
• July 6 sexual assault / rape, Davis
• October 7 sexual assault / rape, Concord, Contra Costa County
• October 13 sexual assault / rape, Concord
• November 4 sexual assault / rape, San Jose, Santa Clara County
• December 2 sexual assault / rape, San Jose
• December 8 sexual assault/ rape,(DNA link), Danville, Contra Costa County
• December 18 sexual assault / rape, San Ramon, Contra Costa County
1979
• January 28 sexual assault/ rape, Carmichael
• March 20 sexual assault/ rape, Rancho Cordova
• April 4 sexual assault / rape, Fremont, Alameda County
• June 2 sexual assault / rape, Walnut Creek, Contra Costa County
• June 11 sexual assault / rape, (*DNA link), Danville, Contra Costa County
• June 25 sexual assault/ rape, Walnut Creek
• July 12 sexual assault/ rape, Danville
• October 1 attempted sexual assault/ murder, (No DNA), Goleta, Santa Barbara County
• December 30 two murders, Goleta
1980
• March 13 sexual assault/ rape/ two murders, (*DNA link), Ventura, Ventura County
• August 19 sexual assault / rape / two murders, (*DNA link), Dana Point, Orange County
1981
• February 5 sexual assault/ rape/ murder(*DNA link), Irvine, Orange County
• July 27 two murders, (*DNA link), Goleta
1986
• May 4 sexual assault / rape/ murder (*DNA link), Irvine