This is an archived article and the information in the article may be outdated. Please look at the time stamp on the story to see when it was last updated.
A police officer in Louisiana recently crashed his patrol car while on-duty after an owl flew into his unit and attacked him, according to the Covington Police Department.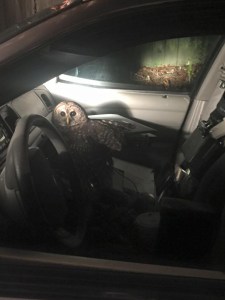 Officer Lance Benjamin was patrolling the Savanah's Subdivision early Christmas Eve morning with his window rolled down when he suddenly had company, Police Chief Tim Lentz wrote in a post on the department's Facebook page.
"As I was exiting the subdivision, going about 10 miles an hour, suddenly I felt something hit the left side of my face," Benjamin told local television station WVUE. "So I'm thinking 'OK, maybe it was a football or something.' And then I felt some scratching on the back of my head and some pecking."
Benjamin quickly realized that he was being attacked by an owl, the station reported.
"I tried to keep control of my car, went into a ditch, avoided some trees. Finally was able to stop the car put it in park get out and there he was just chilling out in the car," the officer said.
He suffered minor scratches but was able to finish his shift, Lentz said in the post. The vehicle did not sustain any major damage.
The owl, meanwhile, flew off into the night when officers opened the door to the police vehicle about 45 minutes later, according to WVUE.
Lentz said he learned of the incident via a text message sent to him at 1:45 a.m., which woke him up.
"I am sound asleep thinking about the upcoming Christmas events … when I think I hear my phone go off with a text message at 1:45am. I look at my phone in a half daze and think it reads something like, 'Officer Benjamin involved in a crash after owl flies into his unit,'" the chief wrote.
He went back to sleep, but saw another text message regarding the incident in the morning.  When Lentz got to the office, he reviewed Benjamin's body camera and found footage from the night before.
Part of the video was posted to the Police Department's Facebook page on Thursday, along with a photograph showing the alleged attacker.
Following the incident, fellow officers bought Benjamin a pink-and-white stuffed plush owl. He told the station he thought of it as his good luck charm.
"Hopefully I don't have to have any more owl encounters," he said, adding, "Yea, I bet he got a hoot out of that."
CNN contributed to this story.