This is an archived article and the information in the article may be outdated. Please look at the time stamp on the story to see when it was last updated.
A magnitude 6.9 earthquake struck Hawaii Island on Friday, with its epicenter at the heart of the newly erupting Kilauea volcano.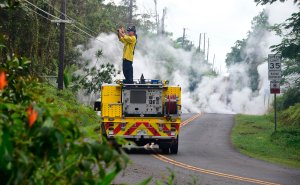 The earthquake could be felt across the state, including Oahu, the home of the state capital of Honolulu.
The earthquake occurred around 12:32 p.m., about an hour after a magnitude 5.4 earthquake hit the same area. Officials did not expect a damaging tsunami.
"It caused a lot of shaking in Hilo. There's been some minor sea level fluctuations and we do not expect a damaging tsunami," said Cindi Preller, a geologist at the Pacific Tsunami Warning Center on Ford Island in Pearl Harbor.
Read the full story on LATimes.com.
M 6.9 – 16km SW of Leilani Estates, Hawaii, 2018-05-04 22:32:55 UTC, 5.0 km depth. https://t.co/g2hWHdnPex This is in almost exactly the same location at the deadly 1975 M 7.1 earthquake. pic.twitter.com/ImkbbL1ruq

— USGS_Seismic (@usgs_seismic) May 4, 2018
M 6.9 – 16km SW of Leilani Estates, Hawaii, 2018-05-04 22:32:55 UTC, 5.0 km depth. https://t.co/g2hWHdnPex This is in almost exactly the same location at the deadly 1975 M 7.1 earthquake. pic.twitter.com/ImkbbL1ruq

— USGS_Seismic (@usgs_seismic) May 4, 2018