This is an archived article and the information in the article may be outdated. Please look at the time stamp on the story to see when it was last updated.
An 8.2-magnitude earthquake struck off the coast of northern Chile on Tuesday, generating a tsunami and dozens of significant aftershocks, authorities said.
Four men and one woman died as a result of the quake, said Interior Minister Rodrigo Penailillo. About 300 prisoners escaped from northern port city of Iquique in the immediate aftermath, he said.
The U.S. Geological Survey reported the quake, which hit at at 6:46 p.m. local time, was centered some 60 miles northwest of Iquique (map) at a depth of 12.5 miles.
It had previously put the magnitude at 8.0 and the depth at 6.2 miles.
Chile's National Emergency Office tweeted Tuesday night that it was asking everyone to evacuate the South American nation's coast.
CNN Chile broadcast video of people in Antofagasta, a port city, walking through the streets as traffic piled up in some places. They appeared to be calm.
A tsunami warning was issued for Chile, Peru and Ecuador. A tsunami watch was also issued for Colombia, Panama and Costa Rica, according to the Pacific Tsunami Warning Center.
By 9:30 p.m. all tsunami warning and watches were canceled.
However, a tsunami advisory was in effect for Hawaii where the first wave was expected to hit at 3:24 a.m. local time.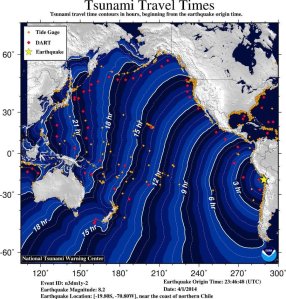 A major tsunami was not expected to hit Hawaii, but the National Weather Service said changes in sea level and strong currents could be a hazard to swimmers and boaters.
Tsunami waves of more than 6 feet generated by the earthquake had already washed ashore on the coast of Pisagua, Chile, according to Victor Sardino, with the center. The center said nearly 7-foot waves were reported in Iquique, Chile.
An 8.2-magnitude earthquake is capable of causing tremendous damage.
But geologists say an even larger quake in the region is lurking.
"This magnitude 8.2 is not the large earthquake that we were expecting in this area," said Mark Simons, a geophysicist at Caltech in Pasadena, California. "We're expecting a potentially even larger earthquake."
"We do not know when it's going to occur," he said.
Chile is on the so-called "Ring of Fire," an arc of volcanoes and fault lines circling the Pacific Basic that is prone to frequent earthquakes and volcanic eruptio