This is an archived article and the information in the article may be outdated. Please look at the time stamp on the story to see when it was last updated.
A man and two teen boys have been arrested nearly a week after a man's partially-charred body was found in a garbage can that was set on fire in San Bernardino, the Sheriff's Department announced Thursday.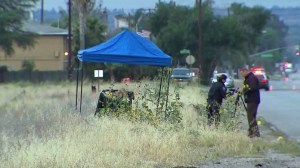 Enrique Jimenez Sr., 46, and the two unnamed juveniles were initially taken into custody last Friday after a pursuit that began when authorities witnessed several males dumping something near trash cans on Sixth Street near Sterling Avenue shortly after midnight, a sheriff's news release said.
Jimenez allegedly lit one of the trash cans on fire.
The subjects then fled the scene in a vehicle after officers attempted to contact them, which led to the chase, according to the Sheriff's Department.
Two juvenile males, ages 14 and 17, were detained in Highland after fleeing from the vehicle.
The pursuit continued into Paramount, where Jimenez allegedly collided with two Downey police cars and was taken into custody after a brief foot chase, the release stated.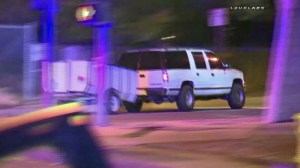 Deputies then went to the trash cans in San Bernardino and discovered the burned body of 51-year-old Morris Barnes, according to the Sheriff's Department. The Highland resident had been stabbed multiple times.
Investigators later learned Barnes was killed on Elmwood Road in Highland after interviewing the suspects, the release said.
Jimenez was transported and booked into the West Valley Detention Center on charges of murder and felony evading, according to sheriff's officials.
The two teens were arrested and each booked into Juvenile Hall on a charge of accessory to murder, the release stated. Their names have not been released, but authorities said the two are related to Jimenez.
They did not disclose the relationship.
An investigation into the homicide continues, and anyone with information is asked to call Detective Jon Cahow or Sgt. John Gaffney at 909-387-3589.
Those who wish to remain anonymous are urged to call the We-Tip Hotline at 1-800-782-7463, or by going to the website www.wetip.com.