This is an archived article and the information in the article may be outdated. Please look at the time stamp on the story to see when it was last updated.
A man suspected of driving through a military display and destroying crosses that had been placed for a Memorial Day ceremony in a Kentucky park was arrested this weekend, police announced.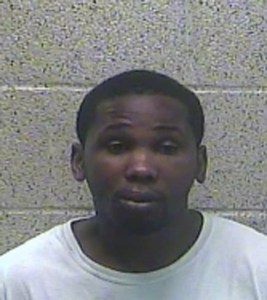 Anthony Burrus, 27, was taken into custody Saturday on suspicion of first-degree criminal mischief and leaving the scene of an accident, the Henderson Police Department said in Facebook post. The arrest came hours after the incident.
Burrus is accused of driving through the Memorial Day display, destroying 20 crosses and damaging another 160, the post stated.
His 1997 Ford Thunderbird was found abandoned at a McDonald's, according to the post.  Pieces of crosses and stakes were found embedded in the tires.
The Henderson community expressed outrage over the incident, which occurred at a Memorial Day tradition that has been taking place for decades.
"It's disturbing, that somebody just has no respect," said Tom Davis, whose father started the annual ceremony.
Added another resident: "Almost fell out of my chair. I couldn't believe somebody would do this."
The display consisted of 5,000 crosses, each bearing the name of a military member who passed away, WFIE reported.
The crosses were repaired and put back in place ahead of Monday's ceremony, according to the station.
A motive in the case has not yet been released.
Burrus has been jailed and is being held on $2,500 bond, according to Henderson County Detention Records.
The CNN Wire contributed to this story.