This is an archived article and the information in the article may be outdated. Please look at the time stamp on the story to see when it was last updated.
A Minnesota man found a creative way to raise awareness about his need for a kidney transplant.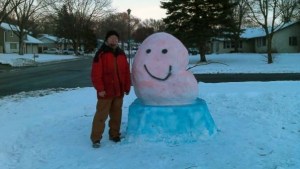 Jim Gorbunows, with some help from Mother Nature and his brother, Jason, built a 5-foot kidney from snow just before Christmas, according to his
Facebook page
.
Next to the frozen kidney, family members placed a sign that read, "Kidney Wanted."
Jim was diagnosed with Type I diabetes when he was 7 years old and has already undergone one previous kidney transplant, according to his donation page at
Transplants.org
.
According to his Facebook page, Jim had received dozens of emails and phone calls from people all over the country willing to donate a kidney.