This is an archived article and the information in the article may be outdated. Please look at the time stamp on the story to see when it was last updated.
Police in Pineville, North Carolina, were searching Tuesday for a man who a day earlier robbed a credit union disguised as Darth Vader.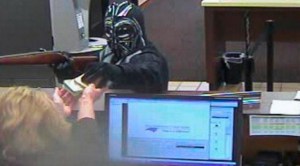 In addition to wearing a Darth Vader-style mask, the man was sporting a chest plate and gloves similar to those worn by the "Star Wars" character, according to photographs released by the Pineville Police Department.
However, instead of a lightsaber — the villain's signature weapon — this costumed Darth Vader was armed with a rifle.
"It was right around lunchtime (in a) very busy area, (a) very busy intersection in our town," Pineville police Lt. Corey Copley told Charlotte television station WSOC-TV. "(There's) a lot of foot traffic in and out of the bank at that time of day."
The man got away with thousands of dollars from the Pineville State Employees Credit Union before running outside and fleeing in a gray four-door Chevrolet Suburban, according to the station.
"This is definitely something unusual that you don't see every day in law enforcement," Copley said.
No one was injured in the heist.
CNN contributed to this story.