This is an archived article and the information in the article may be outdated. Please look at the time stamp on the story to see when it was last updated.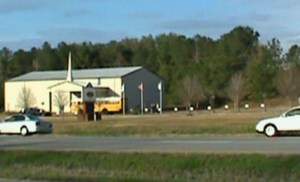 A four-inch-wide ventilation pipe has become the umbilical cord linking the outside world to a 5-year-old boy who has been held prisoner by a murder suspect in an underground bunker in rural Alabama since Tuesday.
As the standoff enters its fourth day, the gunman, Jimmy Lee Dykes, 65, is holding firm against official entreaties to release the child, snatched off of a school bus and taken into the shelter. The boy, whose needed medication is sent into the bunker through the pipe, has been crying for his parents, according to Mayor Virgil Skipper of Midland City, Ala., about 90 miles from Montgomery.
"He's crying for his parents," Skipper told reporters at the scene, a rural road in the town of about 2,300. Skipper said he has met with the parents. "They are holding up good. They are praying and asking all of us to pray with them."
The boy, who has only been identified by the name Ethan, is in the shelter built by Dykes on his land off a dead-end road. Officials have said that Dykes is a Navy veteran and a survivalist who has anti-government views.
The shelter is about eight feet by six feet and is at least four feet below ground. It has electricity, food and a television set that Ethan has been watching, officials have told the growing number of reporters who have kept vigil.
Dykes has been described as a menacing figure by his neighbors. They said he once beat a dog to death for trespassing on his property and has fired shots at residents. Dykes was scheduled to appear in court on Wednesday to answer a charge of menacing.
On Tuesday afternoon, however, Dykes is alleged to have boarded a school bus bringing more than 20 children home. According to officials, quoting the children, Dykes fired several times, killing the driver, Charles Albert Poland Jr., who tried to block the gunman's way. The gunman then grabbed Ethan and fled to the bunker.
Officials have not said what, if anything, Dykes has demanded. Even though there are heavily-armed SWAT teams at the scene, there has been no indication that officials were preparing to try a forced rescue from the underground bunker.
James Arrington, police chief of the neighboring town of Pinckard, told the Associated Press that the captor has been sleeping and told negotiators that he has spent long periods in the shelter before.
"He will have to give up sooner or later because [authorities] are not leaving," Arrington said. "It's pretty small, but he's been known to stay in there eight days."
Officials say the boy, who has a form of autism, is OK and has been receiving his medicine.
"The three past days have not been easy on anybody," Dale County Sheriff Wally Olson told reporters Thursday night. He said authorities' primary goal was to get the boy home safely.
"There's no reason to believe the child has been harmed," Olson said.