This is an archived article and the information in the article may be outdated. Please look at the time stamp on the story to see when it was last updated.
A man has died after allegedly shooting himself outside the White House on Saturday, authorities said.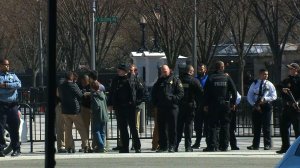 The man shot himself on the head at around 11:46 a.m. outside the north White House fence line, according to a statement from the Secret Service.
"The subject approached the vicinity of the North White House fence line and removed a concealed handgun and fired several rounds, none of which appear at this time to have been directed towards the White House," the news release said.
President Donald Trump was at his Mar-a-Lago estate in Florida at the time of the incident, CNN reported.
First lady Melania Trump was not in the White House, the Secret Service said.
The man's identity was being withheld until the next of kin has been notified.
Update: Adult male has been declared deceased. We are working to notify next of kin. No further updates.

— DC Police Department (@DCPoliceDept) March 3, 2018
BREAKING: Secret Service personnel are responding to reports of a person who allegedly suffered a self-inflicted gun shot wound along the north fence line of @WhiteHouse.

— U.S. Secret Service (@SecretService) March 3, 2018
UPDATE: No other reported injuries related to the incident at @WhiteHouse.

— U.S. Secret Service (@SecretService) March 3, 2018