This is an archived article and the information in the article may be outdated. Please look at the time stamp on the story to see when it was last updated.
A man who tried to run from authorities as his pants fell to his ankles was captured when he tripped on a Chicago expressway Tuesday morning.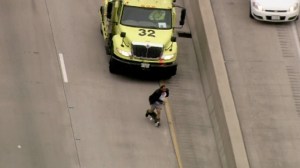 The incident, which was captured on video, began about 6 a.m. CDT when police received a call of a man walking on the Dan Ryan Expressway, local television station WLS reported.
Chicago police and Illinois Department of Transportation crew-members responded to the scene and attempted to stop the man, WLS reported.
Aerial video showed the man trying to run from authorities after his pants had fallen to his ankles.
Eventually the man tripped and was grabbed by a state trooper.
Three expressway workers also jumped in to help the trooper, video showed.
The man was then put into an ambulance and taken to a local hospital, WLS reported.
It was unclear why the man was walking on the expressway.